See How We've Grown!
The winter and spring of 2012 certainly have been productive for Austin Veggie Chef!  The fruits of our labors have literally blossomed into results both tangible and edible.  Many of you may not know that the business that was the precursor to AVC began in 2005 by Chef/Owner, Leslie Haak.  After many years of hard work as a solo personal chef, Leslie's business grew and Austin Veggie Chef, LLC was founded in 2011.  Since then, the company has expanded by leaps and bounds. 
 This year has brought the addition of several new personal chefs and with a staff of six chefs, Austin Veggie Chef is able to meet the needs of a wide variety of clients.  A new service now provided by AVC is health and wellness coaching.  Morna Neal, Certified Nutritionist and Wellness Coach, recently joined the AVC team, expanding our services with a more holistic approach.  Whether you're looking for consistent coaching, specific menus and exercise routines, or private cooking lessons, Morna's guidance can increase one's success with adopting a healthier lifestyle.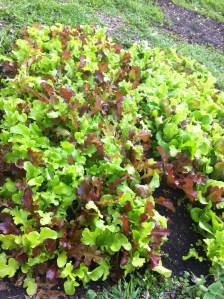 In addition to growing the business, Chef Leslie has also been hard at work producing and sharing her own food.  With the help of her husband, Phil, Leslie has cultivated a beautiful backyard garden at her home.  As a new gardener, Phil has been documenting the process in his own blog.  Included are a few pictures from Phil's blog, but be sure to visit to see their success with other adventures, such as building a chicken coop and tending to chicks!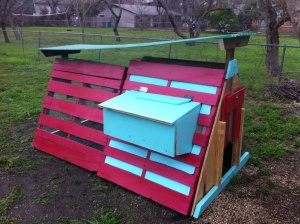 Having tried some of Leslie's lettuce, I can testify that the flavor is fantastic.  Friends and AVC clients have been lucky to receive the extra harvest that Leslie and Phil can't consume- obvious that this growing season has been successful for the couple!  Below is a salad Leslie prepared for an AVC client featuring her lettuce, heirloom tomatoes, chia seeds, and homemade vinagrette.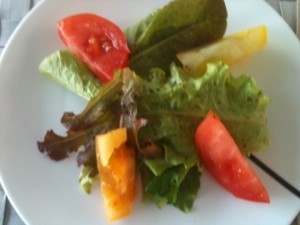 Sandra Bradley, Staff Chef