Eggplant Made Easy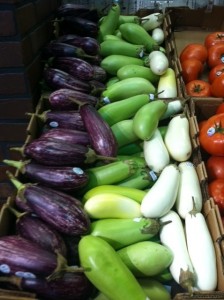 If you've ever struggled with the thought of how to prepare eggplant outside of its common applications, you're not alone.   Many people are often frustrated with its texture and taste when not breaded and fried a la eggplant parmesan.  Although it comes in many more varieties (as pictured left) than most people might be familiar with, eggplant can often be a vegetable that is underestimated in its versatility.  
While typically bitter when raw, the aubergine develops a rich flavor when cooked that is perfect as a platform for more distinct flavors.  Whether or not you associate eggplant most closely with Italian dishes, you might be surprised to find that it carries other flavors, such as acids, nicely.  Below are two recipes that feature eggplant as a base to let other ingredients shine.
Roasted Eggplant Salad
The brightness of the lemon juice, combined with the salt of olives and refreshing cleanness of parsley, makes this eggplant salad crisp and zesty!
 Vegan, Makes 4 to 6 servings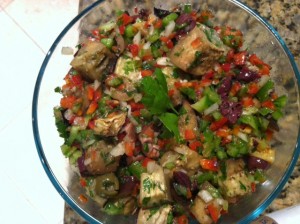 1 large eggplant, cut into 1-inch cubes  1 small red bell pepper, finely diced
1 small green bell pepper, finely diced
3 scallions, finely chopped
1/2 cup pitted Greek olives
1/4 cup finely minced parsley
1/4 cup fresh lemon juice
4 Tbs. extra-virgin olive oil
2 medium garlic cloves, minced
1 tsp. salt
1/2 tsp. dried basil
1/4 tsp. oregano
black pepper to taste
     Optional Garnish:
     diced tomato
     crumbled feta cheese
1)  Preheat oven to 375 degrees F.  Line a baking sheet with parchment paper and lightly oil with oil of choice.  Place cubed eggplant on tray and bake for about 15 minutes, or until tender so easily punctured by a fork.  Remove from the oven and set aside to cool.
2)  In a medium-sized mixing bowl, combine the olive oil, vinegar, garlic, salt, black pepper, dried herbs and lemon juice.  Whisk to uniformity.  Add the eggplant and let sit for at least 2 hours.
3)  Add the fresh parsley and remaining vegetables and any additional garnishes.  Toss thoroughly and adjust seasoning.  Chill and serve.
Braised Eggplant
Roasting these "stuffed" eggplants in liquid help keep them from being dry and dull. 
Vegan, Makes 4 Servings
2 large eggplants
1 small yellow onion, thinly sliced
1 cup shitake or cremini mushrooms, sliced
4 garlic cloves, minced
1 large tomato, chopped
1/4 cup capers
1/4 cup basil, chopped
1 1/2 cups vegetable stock
salt and pepper to taste
oil of choice
1) Preheat oven to 375 degrees F.  Slice eggplants in half, lengthwise.  Flesh side up, score eggplant in 1/2 inch squares, making sure not to pierce the skin. Place eggplants, scored side up in a roasting pan, Set aside.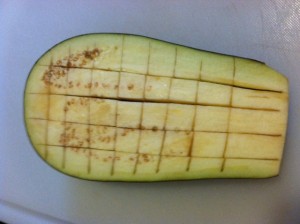 2) In a large skillet, heat oil of choice over medium high heat.  Add sliced onion and saute until beginning to soften.  Add mushrooms and and garlic, stirring frequently, and cook until tender.  When vegetables are tender, add tomatoes along with 1/2 cup of the vegetable stock and cook for an additional couple of minutes.  Season with salt and pepper to taste.
3) Remove skillet from heat and add chopped basil.  Combine all ingredients and spoon in heaping amount over the scored eggplants.  Add remaining cup of vegetable stock to the bottom of the roasting dish.  Cover with foil and bake for approximately 35 minutes or until eggplants are tender throughout.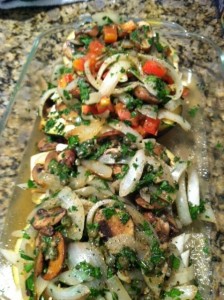 Sandra Bradley, Staff Chef