Magnificent Meatloaf Muffins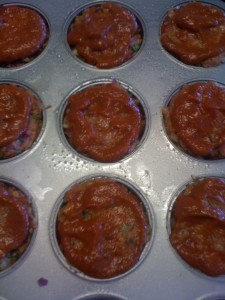 This came about when I couldn't find a meatloaf pan at a client's house.
Somehow, "meatloaf muffins" sounds less ridiculous than "meatloaf cupcakes", even though there are numerous recipes for those out there as well. Perhaps I'm just a fan of the alliteration. In any case, here are two great takes on another way to use those muffin tins you hardly ever bring out.
Buffalo Meatloaf

These kind of have the homemade cupcake look with the glaze on top, but if you want to go really fancy, you can make some mashed potatoes, and put them through a piping bag to get the full professional icing look.
Ingredients:
2lbs ground buffalo or lean ground beef
1 cup bread crumbs
3 eggs
1 red onion, diced
10 cloves garlic, minced
1 red bell pepper, diced
1/2 cup fresh basil, chopped
3 tablespoons marjoram
Topping:
6 oz tomato paste
4 tablespoons red wine vinegar
2 tablespoons prepared mustard
1/3 cup water
1 teaspoon sea salt
1 teaspoon cayenne
2 teaspoons garlic powder
Juice of 1 lemon
Preheat oven to 350 degrees.
Mix all of the meatloaf ingredients in a large bowl, kneading with your hands.
Mix topping ingredients in a small bowl, and add half of it into the meatloaf mix.
Grease a muffin tin with cooking spray, and fill with meatloaf mixture. Spread the top of the meatloaves with the remainder of the topping.
Bake meatloaf for 30 minutes until cooked through.
Let sit for 5 minutes until set. Then, lift out with tongs.
Serve with roasted or mashed potatoes and green beans.
 Note:
For those who are gluten sensitive or on a paleo diet, you can substitute almond and coconut flour for the bread crumbs.
Turkey Kafta Meatloaf with Roasted Pepperonata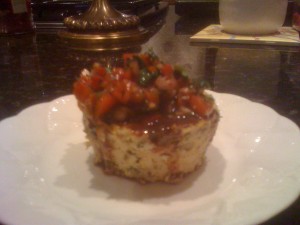 I love Kafta! It's easy and delicious. This is a lower fat version that provides you with a lot of great flavor. I like using ground turkey thigh meat, since if you get the super lean turkey, you may find it a little dry.
Kafta Ingredients:
2 lbs Turkey
1 cup Bread crumbs
3 eggs
1/2 cup Parsley, chopped
1/2 cup Cilantro, chopped
8 cloves Garlic, minced
1 Tablespoon ground cumin
1 Tablespoon ground coriander
Salt and pepper to taste
Pepperonata
2 Red Bell Peppers, roasted
2 Serrano Peppers, roasted (optional)
3 Tablespoons Capers
1 Shallot, minced
3 cloves Garlic, minced
1/4 cup Parsley, chopped
2 Tablespoons Extra Virgin Olive Oil
2 Tablespoons Balsamic Vinegar
Zest and Juice of 1 lemon
Salt and pepper to taste
Roast the peppers first. I use the old-school method of placing them directly on the stovetop, turning with tongs until the skin is evenly blackened. If you have an electric stove, you can pop them in the oven at 500 degrees for about 20 minutes.
Toss them all in a bag or covered bowl to steam, and turn your attention to the Kafta.
Pre-heat oven to 450.
Mix all Kafta ingredients in a glass bowl, and mix thoroughly.
Grease a muffin tin with cooking spray and pack with turkey mixture, coming just a bit over the top.
Pop them in the oven for 30 minutes, while turning your attention back to the topping.
Peel and de-seed the peppers, removing all charred bits and white veins. Dice and place in a glass bowl.
Add the other Pepperonata ingredients and adjust flavors to taste.
When Kafta is done, let it rest in the tin for 5 minutes before removing.
Plate the meatloaves and top with a generous portion of the pepperonata. You won't regret it!