Paleo & Primal: Pizza Possibilities
Staff Chefs Doryan and Sandra provide alternatives to traditional pizza crusts.
I have a love for pizza that is only exceeded by my desire to lose 20 pounds. With the prevalence of gluten-free, vegan, paleo, primal, and so many other diets, I decided to try a couple alternative pizza crust and cheese options.
So many Cauliflower pizza crusts use cheese in them, it kind of seems to defeat the purpose. At first, I tried out the idea of this recipe.
I substituted almond cheese for regular cheese, and added a bit of thyme, basil, and oregano to the crust mix
What came out was this: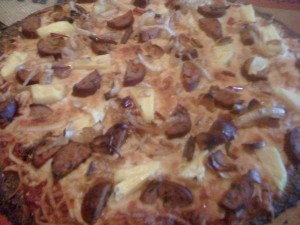 Not bad, but a little crumbly, a little cakey, definitely not crisp, but still looking overcooked on the outer edge. The most disappointing part was the flavor. With all the flax meal in there, you couldn't taste much else on the pizza. Also, I'd advise against using a Silpat, as it's difficult to slide off, and you definitely don't want to cut the pizza on it!
Finally, after a little more experimentation, I got a pretty good recipe down. It'll still be difficult to get that nice crispy crust, and you'll have to be careful getting it off the pan, but use some good parchment paper, and you should be fine. I also substituted Daiya brand Vegan Mozzarella instead of the almond cheese, and it was much better.
1/2 head Cauliflower
1/2 cup Almond flour
2 eggs
1 teaspoon sea salt
2 teaspoons black pepper
1 teaspoon thyme, dried
1 teaspoon basil, dried
1 teaspoon oregano, dried
1 teaspoon parsley, dried
1 Tablespoon Coconut Oil
Pre-heat oven to 450.
Pulse the cauliflower in a food processor until finely crumbled, then microwave it for 6 minutes on high. Let cool.
Add other crust ingredients and mix well, forming a dough.
Spread dough on parchment-lined baking sheet and bake for 20 minutes at 450. Longer, if you want more crispy edges.
Top with your favorite toppings, or use mine!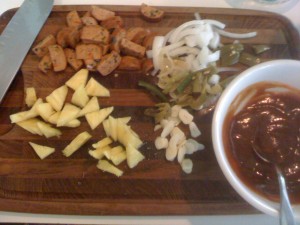 Your favorite BBQ sauce
1/2 cup Onion, quartered, then sliced
3-4 cloves Garlic, thinly sliced
3/4 cup Pineapple chunks
1 link Chicken Sausage, cut in pieces
1/2 cup pickled jalapeno slices
1 cup Daiya Mozzarella shreds
Put back in the oven for another 10-15 minutes.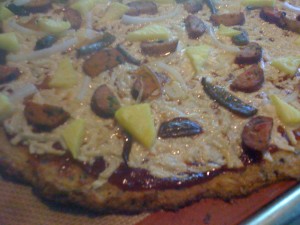 Revel in how healthy you're being!
Doryan Rice, Staff Chef                                                                                                                                                              
As a recent convert to a primarily paleo diet, there are moments when the cravings for certain foods sneak up on me.  I find that the cravings usually come in the form of carb's, but it's not usually the flavors of breads that I miss.  It's their textures! From a flaky pastry to a crunchy and chewy baguette, I miss the mouth-feel that only certain types of gluten-induced doughs can turn into in the oven.   
One such texture is the crispy crunch of a thin crust pizza.  Along with the caramelized flavor of a pizza straight out of the oven, thin crust pizzas are hard to beat!Recently, I stumbled upon a pretty good paleo alternative, in the form of a grain-free crust.  The recipe below is an adaptaion of one found in, The Food Lovers Make it Paleo, a great source not only for paleo recipes but also for tips on how to transition to a paleo kitchen and lifestyle.
Primal Pizza with Eggplant Crust
1 whole eggplant, grated (I grated mine on a microplane for an even finer texture)
1/3 cup flax seed meal
1/3 cup almond meal
1 egg, whisked in its own bowl
1 tsp extra-virgin olive oil
2 large Roma or heirloom tomatoes, thinly sliced
1/4 lb prosciutto
1/4 cup goat cheese, crumbled
1 cup fresh arugula, packed
1/2 cup fresh basil, packed
1 tsp red pepper flakes
salt and pepper to taste
1)  Preheat oven to 350 degrees.  If you own a pizza stone, place in the oven at this point to heat to the set temperature; the stone can be used later.
2) Peal eggplant and grate with a cheese grater or microplane.  Place grated eggplant into a clean dish towel, or layered paper towels and squeeze to remove excess water.  Alternatively, place into a fine sieve and allow to drain.
3) Once drained, place eggplant into a medium sized bowl.  Add flax meal and almond meal as well as whisked egg.  Add a sprinkle of salt and pepper.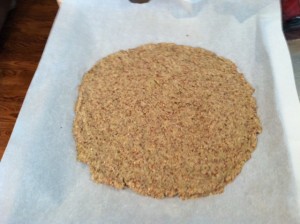 4) Mix all ingedients until they are evenly combined and pour batter onto a parchment-lined baking sheet.  Press out the batter until an even, thin-layered circle is formed, 1/8 inch thick
5) Bake in oven for 30-35 minutes.  Remove the crust from the oven and brush the upturned face of the crust lightly with olive oil.  Carefully, flip the crust over and brush the now exposed surface with olive oil.  Return to the oven for 10-15 minutes.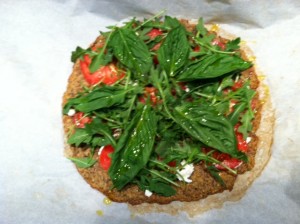 6)  Remove from the oven and layer the pizza crust with: tomatoes, arugula, basil, goat cheese, red pepper flakes, salt and pepper, and a drizzle of olive oil.
7)  Return the pizza to the oven and bake for 5 minutes.
8)  Remove the pizza from the oven, apply the prociutto and a drizzle of olive oil.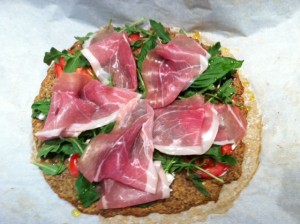 9)  Return the pizza to the oven and bake for another 2-5 minutes, or until prosciuto has begun to wilt.
10) Remove from the oven, allow to sit for 2 minutes, cut and serve.
To make the pizza as a paleo option, omit the goat cheese.
Enjoy!
Sandra Bradley, Staff Chef