Personal Chef, Explained
As today, July 16th, is National Personal Chef Day (yes, it really DOES exist!), I thought it would be fitting to reflect on a recent experience that renewed my excitement for what I do professionally and that allowed me to tell some very special 5th and 6th graders what it's like to be a personal chef and what a wonderful career it can be.
When a good friend found herself in need of a last-minute replacement for her career day lineup, I was more than happy to help out.  Stephanie, a counselor at T.A. Brown Elementary School in Austin, thought my line of work would not only be interesting to her students, but that it would  expose them to a to a career option they might not have even been aware of before.  She reminded me that the majority of students at her school were Hispanic and would not likely have a high exposure to the types of foods that I typically prepare for my clients.  Stephanie also mentioned that the staff at T.A. Brown had recently been stressing the importance of education as a key component in the difference between just landing a job and developing a rewarding career.  Translation:  I would have to be thoughtful and creative in relating my experiences to my audience in a manner that would relate best to them.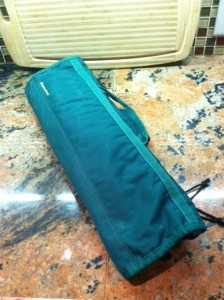 After some thought, and some recollection to what was important to me- in terms of food and education- when I was of a similar age, I decided upon a strategy.  I would attempt to first engage the students about their own experiences with food before I began to talk about my own.  When the day of my presentation rolled around, I was anticipating the encounter with excitement.  With some special ingredients for showing off and my knife bag in hand, I arrived at T.A. Brown and checked in at the front desk.  There, Stephanie asked, in a slightly lowered but extremely friendly voice, "Sandra, would you kindly mind leaving you knives in your car? ".  Of course! I should have realized that my seemingly harmless work tools, which included a bag of at least 6 well sharpened knives, were not necessarily appropriate for a public school a classroom.  After returning from stashing the bag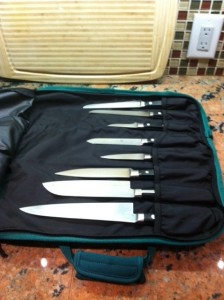 in my car, I was escorted to the appropriate classroom and I calmly waited for my group of students to arrive.  After a few minutes, a trail of excited and talkative 5th and 6th graders trickled into the room and began to take their seats.  Upon seeing me in my chef jacket and checking out some of the food items I had brought, their eyes got a bit bigger and they began to grow quiet as everyone settled in.
After a quick introduction I began to ask the students questions about food: what their favorite foods were, why they thought of them as their favorites, how did the foods make them feel when they ate them, how they would feel if they had to give them up.  Most of the answers were what I was expecting.  Favorite foods included pizza, fried chicken, donuts, enchiladas, and others.  The students ate them because they tasted so good, their family made them often or were used to eating them, they were familiar foods.  Next I asked if any of the students had any food allergies or had ever gotten sick by eating certain foods.  Most said no, but one or two in the audience had specific ingredients they were allergic to.  When asked to imagine how they would feel if they had to give up eating their favorite foods- now or at age 30…or 50, because the foods would make them sick, answers didn't come as quickly.  A few students argued they would eat them anyway, one said that it would be terribly unfair, but most just couldn't associate a food with such a serious health problem. 
 At this point, I began to incorporate more of the details about the services that a personal chef at Austin Veggie Chef provides.  I explained that I cooked in the homes of individuals and families that did have certain allergies or sensitivities to foods and/or had specific health concerns requiring that they consume an altered diet.  My role was to help these individuals by preparing healthy foods that were not only good for them but also tasty and something they would really like to have again.  Stressing that it was important for me to continue my own education beyond what I had learned in culinary school, I explained that I continually had to try new ingredients and to learn about new food preparation techniques.   At the same time, I passed around ingredients that were commonly used by me as substitutions to foods people are often sensitive to.   Most of the students had not heard of the ingredients and as they tasted them, some of their reactions to the sour, sweet, smoky, and salty tastes were hilarious. 
 After a bit more discussion of my educational background and daily routine, I opened up the talk to questions.  The first were a few of the "standards" I thought I might encounter: how much money do you make, what is your favorite thing to cook, what is the hardest part about your job, etc.  There was one question, however, that truly resonated with me. When asked why I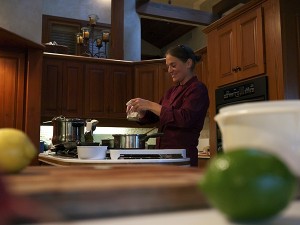 worked for "so many normal people instead of one famous and rich person", I was allowed to truly define what makes being a personal chef such a rewarding profession for me.  I don't just cook for my clients.  Instead, I am able to help them reach a goal in their lives, the goal of enjoying a healthy yet appealing diet.  By assuming the daily task of cooking for them, I allow them to spend more time, stress-free, with their family and friends.  And for those struggling with a new and sometimes overwhelming shift in their diets, I ease their transition into an alternative and actually quite appealing way of celebrating food.  That one small question brought back into focus why I have chosen a career as a personal chef and why I enjoy it so much.  And that ability to help others in this way is, I believe, one of the reasons why all the chefs at Austin Veggie Chef have chosen to make their careers as they have.
Sandra Bradley, Staff Chef