The Fabulous Fig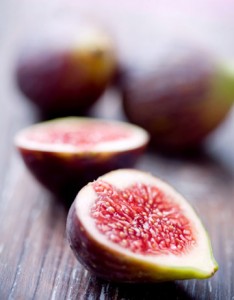 Figs are one of the oldest fruits cultivated by mankind. It's even been theorized by religious scholars that the fig, rather than the apple, was the famed "forbidden fruit" in the Garden of Eden. After all, they did cover themselves in fig leaves. Apple leaves just aren't as cool looking (and don't cover as much).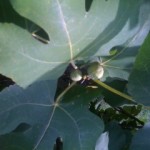 (Pictured: biblical clothing)
Although it's one of the sweetest of fruits (with over 50% sugar concentration), it's also a great source of Calcium and fiber, as well as other minerals and antioxidants.
When I moved in to my house, one of the biggest reasons I chose the place was that there was a lovely fig tree in the back yard. Every year, I get 1-2 small harvests from my fig tree. Sadly, last year's drought took its toll and knocked about 1/3 of the tree out for the count. This year? No figs for me.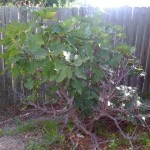 (Pictured: Sadness)
Some of my favorite recipes combine this great fruit with interesting-flavored cheeses and nuts. This one is a party favorite and is no exception.
Baked Figs with Gorgonzola and Walnuts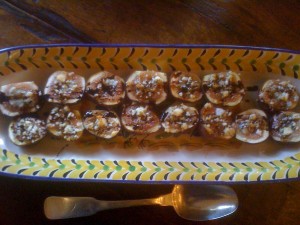 15 fresh figs, sliced in half lengthwise
4 oz Gorgonzola cheese, crumbled
1/2 cup walnut pieces
1/2 cup balsamic vinegar
Preheat oven to 450 degrees
Heat the Balsamic in a small pan until reduced by half. Keep an eye on it, as it can get too thick and syrupy. If this happens, you can rehydrate with a splash more vinegar.
Arrange fig halves on a baking sheet and top with the cheese crumbles and walnut pieces.
Bake at 450 for 10 minutes.
Place on serving dish and drizzle with the Balsamic reduction.
Variation:
If you'd like a great salad with the same flavors, just toss the fresh figs, nuts and cheese over field greens with your favorite Balsamic Vinaigrette.
Doryan Rice, Staff Chef                                                                                                                                                                                       
Just as Doryan is fortunate to have a tree in his backyard, so is an acquaintance of mine.  Malita, said fig-tender, is a friend and was a former roommate at the house we shared in the Rosedale neighborhood in Austin. When it was time for Malita to move on I did mark her departure from Rosedale with sadness, but was happy to see her settle into a house she could call her own.  That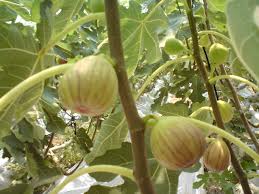 sentiment was intensified when I found out that she had a tree in her yard that produced figs!  And while Doryan experienced a shortage in the fruit this summer, Malita has had a surplus- something she has written about and created recipes for in her blog, http://www.curlsz.com/.
From that blog, I have taken the following recipe for her vegan and gluten free fig bars and re-posted it here.  They are definitely delicious and easy enough to prepare- just the right combination of savory and sweet to compliment a morning cup of coffee or a late afternoon sweet tooth!
Malita's "Infamous" Fig Bars
Fig Preserves/Filling:
2 cups figs, roughly chopped
1 cup water
1/2 lemon, thinly sliced
1 tsp cinnamon
2 cups organic brown sugar
Combine figs and water in a small sauce pan.  Add sliced lemon, cinnamon, and sugar.
Over medium-high heat, bring mixture to a boil, stirring frequently.  When mixture reaches a boil, remove from heat and let steep.
When cool, remove lemon slices.  Set preserves aside.
Bar Crust:
1/2 cup almond flour
1/2 cup coconut flour
1/4 tsp baking soda
1/8 tsp salt
1 cup rolled oats
1/2 cup gluten free rolled oats
1/2 cup coconut oil
1/2 cup organic light brown sugar
Preheat oven to 350 degrees, F. Grease an 8×8 inch pan with extra coconut oil.  Set aside.
In a medium-sized mixing bowl, combine sugar, flours, baking soda, salt and rolled oats.  Mix to incorporate.
Add coconut oil to the mixture.  Transfer mixture to a food processor or Kitchen Aid mixer.  If using a food processor, pulse ingredients until a crumbly mixture is formed, but do not over mix.  With a whisk attachment on a Kitchen Aid, blend at a slow speed until crumbles form.  Otherwise, mix all ingredients with hands until crumbly.
Press half of the bar crust mixture into the bottom of the pre-greased baking pan.
On top of the crust, spread out the fig preserve/filling mixture, using a spatula to insure evenness.
Top the filling with the remaining crumb mixture.
Bake for 35-40 minutes.  Remove from oven and allow to cool.  Once cool, cute into bars.
If you would prefer more of a cobbler, don't allow bars to cool and "set" before cutting.  Just scoop in and enjoy!
Sandra Bradley, Staff Chef