Green Chile Greatness
August and September are the time to get in the mood for New Mexican deliciousness. I recently found a great deal on a whole case of Hatch Green Chiles that come pre-roasted, and doggone it if I just can't resist that opportunity. I wish I could take all the credit here, but my lady love is from Santa Fe, and has taught me many things about utilizing this particular chile. Hopefully, we'll have enough frozen chiles to last us the rest of the year. But since it's chile time, we just couldn't wait to try out some recipes.
Taking a cue from a recent blog post, we decided to do a lighter version of a classic Chile Relleno recipe, using ceviche-style seafood. I also just couldn't resist making my favorite green chile Posole, which I made super easy by incorporating my crock pot.
Ceviche Chile Relleno with Avocado Crema
8 Hatch Green Chiles (or Poblanos, if they're not in season)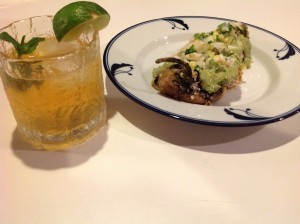 1/2 lb Shrimp
1/2 lb Bay Scallops
Juice of 3 limes
1/2 Yellow Onion, diced
1 ear of Corn
1/3 cup Cilantro, chopped
1 cup flour
2 t dried Oregano
1 t dried Thyme
1 t Smoked Paprika
1 t Sea Salt
2 eggs, beaten
2 cups Panko bread crumbs
Start off with the seafood. We don't want to make it fully "cooked" by the lime juice. Just enough to lend flavor and a nice, firm texture. Cut the shrimp and scallops into bite-sized pieces and toss them in the lime juice. Let the mixture sit in the fridge for about an hour while you prep the rest of the ingredients.
Next, get to roasting those peppers on the stove. Just turn on the burner, and place them directly on the fire, roasting them until you've blackened the skin on all sides. Then, put them in a plastic bag to sweat. I also like roasting the ear of corn for just a little bit over the fire to give it a little more depth of flavor.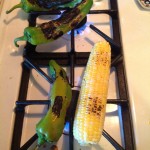 While those are sweating, chop the vegetables and cut the corn off the cob. Toss the onion, corn, and cilantro together in a bowl with 1 teaspoon of Oregano.
Once the peppers have sweated for about 20 minutes, remove them from the bag, gently peel the skin off, and remove the seeds by carefully cutting a slit down the side and pulling them out. You might want to wear gloves for this, or oil up your hands so that the heat from the peppers doesn't burn you.
Now, turn your oven to 400 degrees and set up your breading area. One plate with flour that's seasoned with paprika, oregano, thyme and salt. Then, a bowl with two eggs well beaten. Finally your bread crumbs at the end. Dredge each pepper in the flour, followed by the eggs and then the panko, making sure to pat the panko evenly onto the surface. Place the breaded peppers on a lined baking sheet.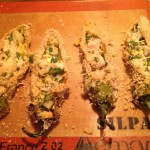 Bring out the seafood, drain the lime juice, and add in the vegetable mixture, mixing well. Stuff each pepper with a bit of the mixture, and loosely close with toothpicks.
Bake at 400 for 20 minutes. Top with Avocado Crema, and (if you have some left) you can top with a little more of the ceviche filling.
Avocado Crema
1 Avocado
1/3 cup Cilantro, chopped
1 can Pickled Serrano Peppers
4-5 T Salvedorean Crema
Take out 3-4 Serranos from the can, and cut off the stem. You can use more if you like more heat. I also throw in about half of the pickling juice from the can and some of the pickled carrots and onions that are sometimes in there.
Combine with all of the other ingredients in a food processor or blender and blend until smooth.
Easy Green Chile Chicken Posole
10-12 Hatch Green Chiles, roasted, seeded, peeled and chopped
1 Onion, chopped
4 cloves Garlic, minced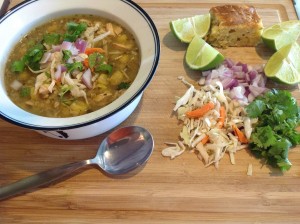 2 t dried Oregano
2 t dried Thyme
1 T Red Wine Vinegar
2 lbs Chicken, cut in bite sized pieces
1 quart Chicken Stock
1 medium can White Posole, drained
1 medium can Yellow Posole, drained
2 Bay Leaves
Salt and Pepper to taste
Sauté onions until translucent. Add in garlic, chiles, and herbs. Sauté for another minute or two, then de-glaze with the vinegar. Put the mixture into your crock pot.
Brown the Chicken pieces in a little oil with some salt and pepper. Remove before they're fully cooked and place them in the crock pot.
Fill the crock pot with the rest of the ingredients, cover, turn it on, and let cook for at least 2 hours. I left mine on all day, and it was great! Top with any of the toppings below. I served mine with some Green Chile Cornbread from Whole Foods, and it didn't disappoint!
Toppings
1 bunch Cilantro, chopped
2 cups Cabbage, shredded
2 Limes, quartered
1/2 Red Onion, diced
4 Radishes, chopped
Doryan Rice, Staff Chef