Needless of Nightshades
Doryan Rice, Staff Chef
Deadly Nightshade.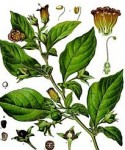 The name and use of Atropa Belladonna is bound in history and folklore since before Ancient Rome, where flowers and berries of a certain plant were used as medicine, hallucinogens, and poison. It was even said to be part of a witch's "flying potion" in the Middle Ages.
Nowadays, many nutritionists recommend cutting out this whole family of plants called nightshades for those who have issues with digestion or joint pain.
The problem is, this family includes some of mankind's staple foods, including tomatoes, potatoes, peppers, eggplant, gooseberries, goji berries, and tobacco. While the last few are easy to avoid, the main four are so ingrained in many cultural foods, it may seem daunting to live a nightshade-free life.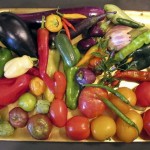 Fortunately we're here to help!
One of the easiest nightshades to avoid is the potato, as there are many starchy alternatives. One of the most difficult to avoid (especially for me) is hot peppers. I decided to alter my signature Chipotle Potato Salad to something that even those taking the nightshade challenge can enjoy.
Spicy Yuca Salad (or Faux Chipotle Potato Salad)
2-3 Yuca, peeled, quartered and sliced
2 ears Corn, roasted
1/2 Red Onion, quartered and sliced thin
1/2 cup Cilantro, chopped
Boil the yuca in just enough water to cover for about 25-30 minutes, until soft. Drain and place in bowl.
Cut the corn off the cob and add to the yucca. Allow to cool for at least 20 minutes.
While cooling, make your dressing.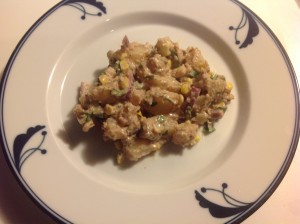 Pepper Crema Dressing
2 t Liquid Smoke
1/2 Red Onion, chopped
4 cloves Garlic, minced
2 t ground Szechuan Peppercorns
1 t ground Red Peppercorns
1 t ground Cubeb or other spicy Peppercorns
1/4 t ground Clove
2 T Ume Plumb Vinegar
1/4 cup Red Wine
3 T Tamarind Paste
1/3 cup Salvadorean Crema
Saute onion and garlic in a bit of oil until soft.
Add the seasonings, and de-glaze with the vinegar and wine. Add the liquid smoke and remove from heat.
Put ingredients in a food processor and add the tamarind paste. Blend until smooth.
At this point, adjust your seasonings. The pepper can make it a little bitter, and it might need some salt and sweetness to balance the flavor.
Toss the dressing with the yucca mixture, adding cilantro. Let it marinate for an hour or so. Finish with the crema when ready to serve.
What to serve it with? Anything you like. Me? I served it with a green chile chicken sausage with onions and peppers. Because I still love me some peppers.