Summer Seafood Sensations
Summer is a great time for beaches, sunshine, and getting into great shape to fit into that swimsuit. It's all fun in the sun until you swim up on something you didn't expect.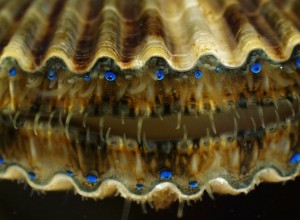 Don't be afraid…
This little guy is just an innocent, cute little bay scallop. Just really really close-up.
After all, summer is also a great time to look to the sea for something tasty to eat. Seafood is lighter, lower in fat and calories, and full of  Omega 3s.  Of course, there are rules for certain things like shellfish and some warm water fish that say you shouldn't eat them in any month that doesn't end with a "R".  While wild caught sea food is my first preference there are sustainably run farming colonies that offer high quality options.  Whole foods is an excellent source for those options.
Since hot food can be a no-no when the thermometer reaches the triple digits, I find ceviche is the best way to enjoy these guys.
Mango Ceviche in Avocado Boats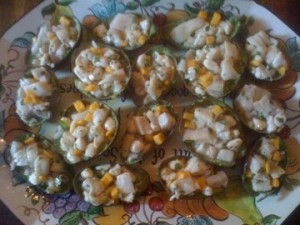 1 lb Tilapia or other firm white fish, cut in small pieces
1/2 lb Bay Scallops, sliced in half crossways
(You can alter the ratio between the two, depending on your preference.)
1 Yellow Onion, diced
2 Serrano Peppers, finely diced
Juice of 2 Oranges
Juice of 10 Limes
2-3 Mangoes, diced
6-7 small Avocados
1 bunch Cilantro, finely chopped
Salt and Pepper, to taste
Once you've prepped the 1st 6 ingredients, assemble them in a non-reactive bowl, making sure the seafood is covered just enough with the juice. Cover, and let marinate in the refrigerator for at least 2-3 hours. Smaller cuts of fish will take less time. Personally, I prefer the fish not fully "cooked", but judge to your taste and texture preference. Fully cured fish and scallops could take closer to 4 hours, while some recipes call for overnight curing.
After removing from the refrigerator pour out at least half of the juice, toss in the mangoes and cilantro and season with salt and pepper.
When you're ready to serve, dice the avocados in the shell, making sure to not cut all the way through. At this point, you can add the avocado to the ceviche or make some guacamole to accompany on the side. Either way, spoon the ceviche into the avocado shells and serve with some warm tortilla chips. The good thing about this? Those avocado shells are reusable for seconds if you have ceviche left!
Doryan Rice, Staff Chef                                                                                                                                                           
Another thing not to be afraid of is preparation of seafood in general.  Many people tend to shy away from cooking seafood because they think it is difficult- easy to overcook or requiring complex cooking techniques.  Nothing could be farther from the truth.  While some dishes containing seafood might require a bit more attention in order to ensure that nothing is overcooked, steaming is a method that is mostly forgiving.  My favorite method for steaming is "en papillote", which is French for "in parchment".  Also known as "al cartoccio" in Italian, en papillote is a method in which food is placed in a folded pouch of some kind and baked.  Typically, parchment paper is used to enclose the food, with folded ends that trap in moisture and essentially steam the food during the cooking process.  One of the best parts about using this method for cooking is that as all the components are encased in paper, it allows for a relatively easy clean up afterwards!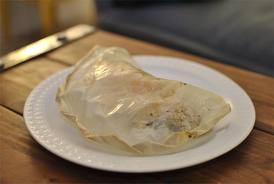 The recipe below features halibut with oven-roasted tomatoes, caramelized onions, lemon, and arugula.  I've found that cooking en papillote lends itself well to relatively simple, straight-forward flavors.  The steaming process is very true in that it doesn't alter the flavor of the items used during cooking, which can happen with sauteing or grilling as foods caramelize.  Therefor, I like to use more mild tasting fish for this method rather than stronger tasting fish such as salmon or mackerel which benefit from the influences of a grill.
Halibut En Papillote
8 oz halibut filet
2 cups small cherry or teardrop tomatoes, cut in half
1/2 onion, thinly sliced
1 cup arugula
2 lemon slices
1 tablespoon olive oil
salt and pepper to taste
Preheat oven to 350 degrees F.  Line a small baking sheet/pan with parchement paper.  Place cut tomatoes on parchment paper, cut-side up and drizzle with olive oil, salt and pepper.  Place into oven and bake for approximately one hour or until tomatoes have begun to wither and caramelize.  Remove from oven and set aside.
While tomatoes are cooking, heat a skillet over medium-high heat.  Add 1 tablespoon olive oil, followed by the sliced onions.  After a few minutes in the skillet, reduce heat to medium and allow the onions to continue to cook, stirring to ensure even cooking until they are golden brown.  Remove from heat and set aside.
Cut a piece of parchment paper large enough to wrap the halibut filet and allow for extra paper for folding around the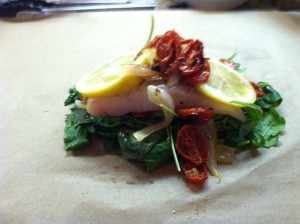 filet.  Place the arugula in the center of the parchment paper.  Place 2/3 of the caramelized onions ontop of the arugula.  Next, add 2/3 of the oven-roasted tomatoes.  On top of the vegetables, place the halibut filet.  Season the filet with salt and pepper.  I chose to use an alderwood smoked sea salt to add a bit of smoky flavor to the dish.  Look for smoked salts at specialty spice shops and grocery stores. On top of the fish, place two lemon slices as well as the remaining onions and tomatoes.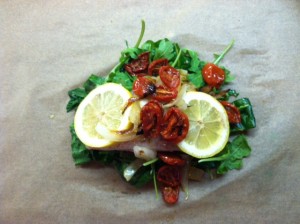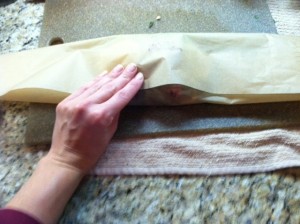 Next, beging to fold the parchment around the fish and vegetables.  Make sure that the pouch is not too big, or that there is not too much space between the food and the paper.  Finish by crimping or folding the sides of the parchment so that the pouch will remained closed while cooking.  If needed, twine can be wrapped around the paper to ensure it will remain closed and trap in the steam.
Place the pouch on  a sheet pan or other baking dish and into the oven.  Cook for 12-15 minutes.  Remove from the oven and allow to sit for a couple of minutes before opening paper.
Some recipes may call for aluminum foil instead of parchment paper and it is easier to use as it folds easily and maintains a desired shape.  However, it can affect the flavor of foods and aluminum does react with acidic foods.
Sandra Bradley, Staff Chef