Texas Heat Wave
This time of year, not much is hotter in Texas than the weather.  Except for a hot chile pepper, that is!  I've always found it somewhat ironic that the harvest seasons of several delicious peppers, including the hatch and shishito, happens to coincide with when the heat really starts to rise.  When the dog-days of summer set in however, I always start to anticipate the arrival of the chiles and begin to think of new ways to enjoy them during the season.  Recipes featuring both peppers are included below.
 Hatch chile  is not an actual variety but refers to a number of species that are of the genus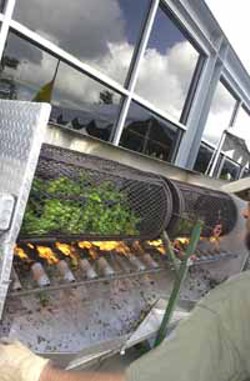 Capsicum and grown in the Hatch Valley of New Mexico.  The peppers range in heat from mild to varieties hotter than a jalapeno.  Each Labor Day, the village of Hatch hosts the Hatch Chili Festival, drawing crowds of thousands to enjoy the harvests of the chile capital of the world.
As Hatch chiles have a thicker, tougher skin than other types of peppers, it is usually necessary to blister the skin by exposing it to high heat in order to remove it.  Often, where the chiles are available for sale, purveyors will cook them in large roasters that constantly turn the chiles while exposing them to extremely high heats, allowing them to be easily de-skinned.  Once the chiles have been roasted, their shelf life is not as long, however, they can be frozen and used throughout the remainder of the year.  Both Whole Foods and Central Market currently offer roasted Hatch chiles.
Photo by John Anderson
In contrast to the hotter Hatch, the shishito pepper is thin skinned, sweet in flavor and mostly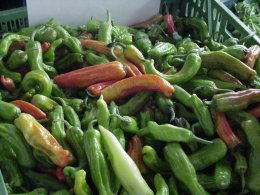 mild.  It has been my experience that only one out of a handful of these smaller peppers packs a little punch in terms of heat.  Gaining its name from its appearance, the tip of the pepper (togarashi in Japanese) looks similar to the head of a lion (shishi).
Because the shishito is thin-skinned, it's skin does not need to be removed before consumption and the blistering caused while cooking lends to the flavor of the pepper.  Typically, these chiles are either fried or grilled.  The grilled peppers are delicious simply tossed with a bit of olive oil and large flake sea salt.  I like to pair mine with a homemade dipping sauce using roasted bell peppers, jalapenos and tomatoes.
Creamy Coconut Hatch Chile Polenta
Naturally sweet coconut milk is a nice compliment to the heat of the Hatch chiles and can be used instead of milk or cream.
2 or 3 roasted hot Hatch chiles, depending upon desired level of heat
1/2 medium yellow onion, diced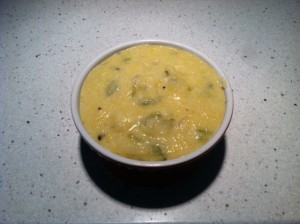 4 garlic cloves, minced
1/2 cup white wine
1 (13.5 oz) can coconut milk (make it is not the "light" version)
1/2 cup heavy cream
1 Tablespoon butter
1 Tablespoon
1 1/2 cups regular polenta
4 cups chicken or vegetable stock
1 1/2 teaspoon salt
To begin, the Hatch chiles will need to be cleaned.  I find this is most easily done under running water.  Hold the pepper near its stem with one hand, and with the other hand, run it down the length of the pepper while pulling away the charred skin.  This may take a few minutes to remove as much blackened skin as possible.  Next, remove the stem of the chile with your hands and it will easily open, exposing all the seeds.  Under water, wash away all the seeds.  Prepare chile, onion and garlic.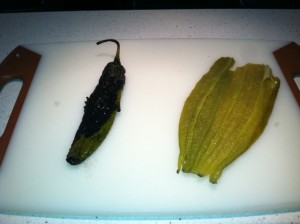 (L: Roasted Hatch chili    R: Cleaned chili)
In a medium-sized , heavy-bottomed pan, heat butter and olive oil.  Add diced onion and saute for several minutes.  Next, add the diced chiles and garlic.  Cook, stirring frequently, until the onions begin to soften and become translucent.  At this point, add the white wine and allow most of the liquid to reduce.
Add the polenta as well as the stock.  It is important to continue to stir frequently at this point so that the polenta does not clump or stick to the bottom of the pan.  Bring the mixture to a simmer and allow to cook for at least 20 minutes.  The longer and slower the polenta is cooked, the more creamy its texture will become.
After 2o minutes, add coconut milk and cream.  Continue to stir at a low simmer until the desired consistency is acheived.  Remember that polenta will thicken as it cools.  If necessary, water or additional stock can be added at any point to thin the polenta.
Grilled Shishito Peppers
Because these peppers are smaller (think the length and width of your finger), it may be useful to

use a grill basket, if you own one, while cooking them.
1 pound fresh shishito peppers
3 Tablespoons extra virgin olive oil
Maldon sea salt, to taste
Heat outdoor grill to 350-400 degrees F.  Place shishito pepper in a bowl and drizzle with olive oil.  Toss.  Place peppers in grill basket and place basket on grill or carefully lay peppers directly onto the grill in one single layer.  Cook for several minutes or until the pepper begin to char.  Flip and cook the other side until evenly done and just beginning to brown/blister.
Return peppers to the bowl and sprinkle with Maldon sea salt or another large-flake finishing salt.  Toss and serve with roasted pepper dipping sauce.
Roasted Red Pepper Sauce
1 large red bell pepper
1 large ripe tomato
1 0r 2 jalapenos, depending on desired level of heat
4 garlic cloves
1 shallot
1/3 cup fresh parsley or cilantro
2 Tablespoons red wine vinegar
2 Tablespoons extra virgin olive oil
1 teaspoon fish sauce
1 teaspoon honey or agave
salt and pepper to taste
Preheat oven to 350 degrees F.  Line a baking sheet with parchment paper.  Place peppers, shallot, garlic, and tomato on baking sheet and roast for at least 30 minutes or until vegetables begin to lightly brown.  Remove from oven and allow to cool.
In a food processor or blender, place all roasted vegetables as well as remaining ingredients.  Pulse to a smooth consistency.  Adjust to taste.
Sandra Bradley, Staff Chef