Special Event Dinners
Last night, I had the pleasure of cooking a very special 4-course menu for a lovely couple in honor of a very special birthday.
That's right! Even if you don't need chef services every day, you might find you'd appreciate a chef on those special occasions. Need flowers? We can pick them up. Want a wine recommendation to match your menu? We can make it happen. Last night, our couple wanted to re-live their trip last year to Italy, so I constructed four courses to give them a little return journey.
We had special menus printed out, wines paired, and flowers arranged. Below is the menu, and I'll even throw in one of the recipes that turned out amazingly well!
Antipasto:
Fiche con Gorgonzola
Baked Figs with Gorgonzola, Walnuts, and Lavender Balsamic Reduction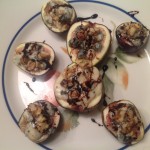 Primo:
Minestra di Mais e Granchio
Chilled Corn Soup with Crab and Chive Oil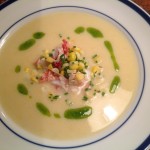 Secondo:
Pettine Tagliata
Seared Sea Scallops with Balsamic Mushrooms over Arugula with Rosemary Potatoes and Lemon Truffle Vinaigrette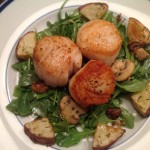 Dolce:
Gelato di Vaniglia con Fragole
Vanilla Gelato with Fresh Strawberries, drizzled with Chocolate Balsamic Reduction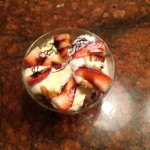 Now, you may be thinking that corn isn't Italian, but keep in mind that they do have polenta over there. Plus, before the voyage to the New World, Italy didn't have many other ingredients that we now associate with Italian food. Bell Peppers, tomatoes, and other nightshades are (historically speaking) relatively new to Italian cuisine.
In any case, here's a great chilled soup recipe to enjoy at the end of your summer.
Chilled Corn and Crab Soup with Chive Oil
2 ears Corn
1/2 Yellow Onion, diced
6 cloves Garlic, Minced
1/2 lb King Crab Legs
2 cups Chicken Stock
1 bunch Chives, chopped
1/4 cup Extra Virgin Olive Oil
Cut the crab out of its shell, and reserve some large pieces of the shell for the stock.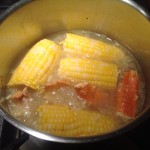 Saute the onion and garlic in 1 tablespoon of olive oil until soft. Add the corn, crab shell, stock and a bit of salt and pepper.
Bring to a boil, then reduce and let simmer, covered, for about 30 minutes.
Remove from heat and take out the crab shells and corn. Cut the corn from the cob and discard the shells. Return the corn kernels to the stock mixture, reserving about a 1/2 cup for garnish.
Blend the corn and stock mixture until smooth. Put half of the mixture through a mesh strainer for a smooth texture. Then thicken that thinner mixture with the rest of the puréed corn. Place in the fridge to chill for at least an hour.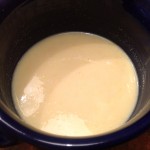 For garnish, toss the remaining whole corn kernels with 2 tablespoons of chopped chives. Blend the remaining chives with the rest of the olive oil until smooth.
To serve, ladle a bit of the soup mixture into a small bowl or cup, crumble a bit of crab into it, top with the corn/chive mixture, and drizzle with the chive oil. Enjoy the delicate flavors!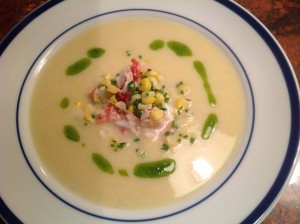 Doryan Rice, Staff Chef