It's the Great Pumpkin, Charlie Brown!
Fall is upon us, and people are just starting to get excited about pumpkin-based food and drink. Of course, by the end of the year, people will be truly tired of pumpkin in just about everything, but for now, we can rejoice in the love of these gorgeous gourds!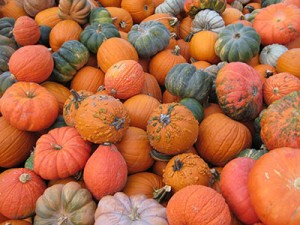 Last night, I went on a cooking binge and did a few experiments. My dinner consisted of some store-bought crepes that I spread with a mixture of puréed pumpkin and sour cream. Then, I sautéed some leeks with garlic, sage, white wine, and roasted chicken. Altogether stuffed inside a crepe, these make a great savory treat!
But today, I've given into my weakness for sweetness, and worked with some fresh plums supplied from my girlfriend's mother to come up with a delicious treat. Hopefully, I'll find several people to help me finish it.
Pumpkin Plum Upside-Down Cake
1/2 cup unsalted butter
3 T brown sugar
1/2 cup sugar
4-6 plums, sliced
1/2 cup unsalted butter
2/3 cup sugar
1 tsp vanilla
2 large eggs
5 oz Greek vanilla yogurt
1 1/4 cups organic pumpkin purée
2 cups flour
1 1/2 t baking powder
1/2 t baking soda
1 t salt
1 t cinnamon
1/2 t (each) allspice, nutmeg, ginger
Pre-heat oven to 350.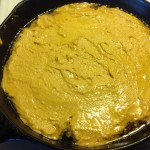 Melt 1 stick of butter in a cast iron skillet on low heat. Add brown and white sugars, and stir to melt together. Place the slices of plum in concentric circles around the pan and allow them to caramelize in the mixture for couple of minutes, then remove from heat.
Cream the rest of the butter and sugar in a mixer until smooth. Then, add eggs one at a time.
Add in yogurt and pumpkin and blend until well incorporated.
Mix the dry ingredients in a bowl. Then add slowly to the rest of the mix.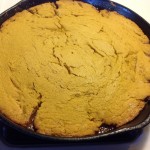 Spoon the cake batter over the plum mixture, and carefully spread it across the pan.
Bake at 350 for 25-30 minutes until set. Let sit for 10 minutes before inverting onto a serving platter.
Enjoy with some vanilla ice cream.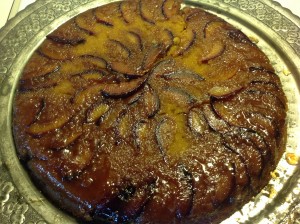 Doryan Rice, Staff Chef                                                                                                                                                 
While Doryan's plumb and pumpkin cake would be the perfect way to end a delicious dinner, how about starting the day off with pumpkin?   Of course, pumpkin works well in baked goods like muffins and cakes, but a special request from one of my clients called for the creation of a gluten-free pumpkin pancakes.   Looking into several recipes online, and borrowing from a couple of them, the result was a deliciously toasted pancake with hints of pumpkin pie.  Even better, is that this recipe can be completely and easily made in the food processor!
Pumpkin Pancakes
1 cup cottage cheese
1 cup organic pureed pumpkin
4 eggs
3 Tbsp agave nectar (or sweetener of choice)
1 1/4 cup almond meal
1/2 cup rice flour
2 tsp baking soda
2 tsp ground cinnamon
1 tsp ground nutmeg
1 tsp ground cloves
1/2 tsp salt
In a small to medium sized bowl, combine all the dry ingredients.  Set aside.
In a food processor, puree cottage cheese until it is mostly smooth.  Add the pumpkin and continue to puree until both ingredients are smooth.  Next, with the food processor running, add the eggs one at a time.
Add the remaining dry ingredients to the pumpkin mixture and pulse in the processor until a smooth batter is formed.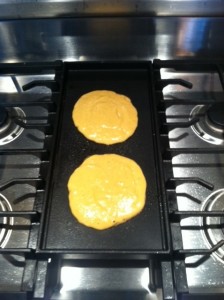 Heat a griddle or pan to medium-high heat.  Use butter or oil of choice to coat cooking surface.  Ladle the batter onto the griddle and cook until bubbles begin to appear in the batter and it will easily release from the cooking surface.  Flip the pancake and cook until golden brown.
Sandra Bradley, Staff Chef