MD Anderson helps you eat healthy!
MD Anderson has developed a fantastic site that was inspired by peoples' love for food and doctors' love for keeping their patients alive and healthy. Since many major health problems can be easily avoided by diet and exercise, and many Americans think "diet" is a 4-letter word, a group of staff, parents, and community supporters decided to offer something to help people get healthy.
@The Table is where you can find recipes collected from chefs, co-workers, and other members of the community. Then, some of them were tweaked a bit to make them healthier, and they were all put up online for easy access to your computer, tablet, or phone. It's a handy resource, and one of my clients suggested that we try out some of their recipes. Below, you'll get an idea of the results of how these recipes turned out.
You can click on the titles to get to the recipes.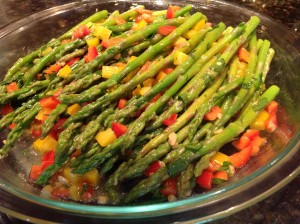 This is a great little salad idea for those who want to take a break from the usual green-based salad. The dressing is quite flavorful, and the peppers add some eye-catching color. They recommend "peeling" the asparagus, but I've found it's best to just snap off the ends, as they tend to be a little too fiberous for my taste. Plus, it cuts down on prep time. Don't overcook the asparagus, either. I put mine right into some ice water  and chilled it in the freezer for a few minutes to keep them crisp and bright green.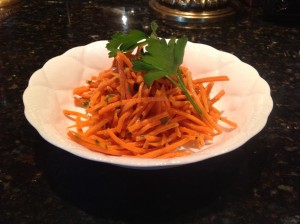 This was so easy, it took less than 5 minutes to make! I like my carrots to be a bit firmer and crunchier than the grated carrots the recipe calls for, so I ended up using pre-cut jullienned carrots from Whole Foods and tossed them in the light but flavorful dressing. Definitely a winner!
 Shrimp and Avocado Salad with Lime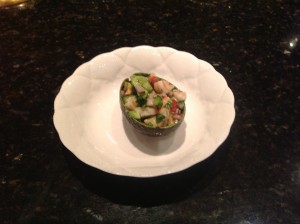 This is essentially a ceviche for those who don't want to have to deal with the whole "raw seafood" deal. To be honest, I've tried to make shrimp ceviche, and I ended up not enjoying the texture of it. Shrimp doesn't "cook" with lime juice as well as fish and scallops, so most people use cooked shrimp to toss in ceviche recipes.
I ended up using the Chipotle Lime pre-cooked shrimp from the Whole Foods seafood counter, and it worked out great. The best way to present any ceviche is to simply use the hollowed out avocado halves and serve them with warm tortilla chips.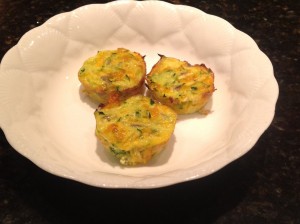 These didn't really come out as "tots", but I have to confess that I was trying to at least double the recipe, so the egg proportions may have been a little off in some of the muffin tins.
All in all, they turned out like something closer to a mini zucchini frittata or quiche. And they tasted pretty darn good. Unfortunately, they're not the cure for my crippling tater tot addiction, like I was hoping for.
I may have to try this again with a bit less egg and see how well it works.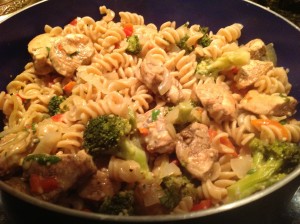 A light but flavorful fare that rings in at just over 100 calories per serving. You cook the chicken with some balsamic, and the flavor gets absorbed into the veggies when you add them once the chicken is done.
It's simple, quick and will keep you looking fit!
Maple-Glazed Chicken with Thyme Sweet Potato Hash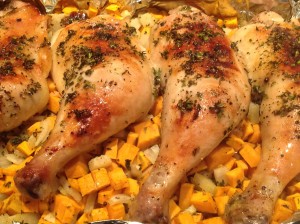 This just came out looking great. I'd recommend making a little bit more of a glaze that you could brush on throughout and to finish. Basically, a combo of a bit of thyme with a little, salt, pepper and a fair bit of the maple to make it all stick.
The caramelization of the skin combined with the colors of thyme and sweet potato give this a very rustic look, and the flavors really come through well. I also recommend using chicken leg quarters, as they'll hold on to that flavor and stand up better to roasting.
Doryan Rice, Staff Chef