Holiday Party Treats
It's coming to that time of the year, when you invite people to your home that you've spent hours and hours decorating into the perfect holiday wonderland. Carols are gently playing, ribbons are perfectly evened, and your elf ears are securely attached.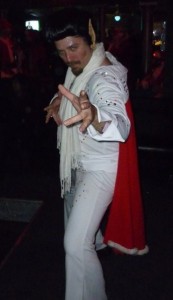 Though, we can't all be Elfvis
But what are you serving? Egg Nog? Tiny ham sandwiches? Cream cheese and Pickapeppa? Well, I must confess, those are all actually great ideas. In fact, I use them just about every year. But just to change things up, here are a couple of ideas to switch things up!
Prosciutto-wrapped Asparagus
with Lemon Truffle Vinaigrette
This is one of my favorite hors d'oeuvres.
They're 3 bite bits of deliciousness that'll have you wanting to have someone help you lick your fingers clean.
1.5 lb asparagus, trimmed
4 oz goat cheese, room temperature
1/2 lb prosciutto, sliced thin and cut in half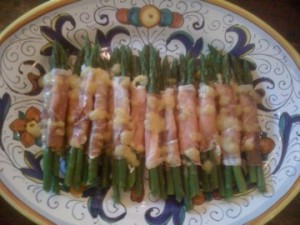 Vinaigrette:
Juice of two lemons
1 Shallot, minced
1/3 cup Extra Virgin Olive Oil
1/4 cup Truffle Infused Olive Oil
Salt and Pepper to taste
Make the vinaigrette first, so the flavors have time to meld.
Blanch asparagus in boiling water for 45 seconds, and soak immediately in an ice bath.
Make sure goat cheese is at room temperature, and spread a small smear on half a piece of prosciutto.
Wrap the prosciutto around 1-3 spears of asparagus, depending on their size. I usually enjoy smaller asparagus, as it's more tender.
Plate the wrapped asparagus on a nice platter and drizzle with the vinaigrette. Serve and watch them disappear!
Veggie Grit Cakes
1 can Artichoke Hearts, chopped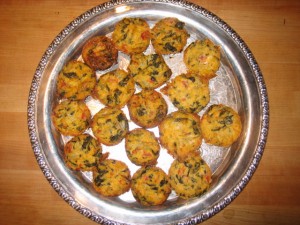 1 lb frozen cut Spinach
1 cup Grits, cooked in 4 cups water
1 can diced Tomatoes and Chiles
2 Eggs, beaten
4 oz Goat Cheese
Paprika, Salt and Pepper
Pre-heat oven to 375.
Cook grits according to instructions.
Toss in spinach, artichoke, tomato mix, cheese and seasonings. Taste to check seasoning.
Add in eggs and mix well.
Spoon into greased mini muffin tins and bake for 35-40 minutes.
Let cool for 10 minutes, remove from tins, and heat just a bit before serving.
Doryan Rice, Staff Chef