Paleo Pot Roast, a Winter Comfort
As the mercury falls, and fireplaces warm your hearth, it's time to warm your insides with some great comfort food. Comfort food, as we all know, is more of a fancified way of referring to things that will pack on that extra layer that will not only keep us warmer in the winter months, but can also be well hidden by a stylish coat and hat.
Of course, if you're on a paleo diet, you're likely still working out a lot, so you're going to need this high-protein, low-carb meal to keep you in proper form through the icy chill.
Paleo Pot  Roast wrapped in Pork Belly
1 medium piece Yuca, peeled and chopped

3 Carrots, sliced
1 Leek, halved and sliced
15 cloves Garlic, halved lengthwise
3 T Coconut Oil
2 T Paprika
2 T Garlic Pepper
2 T Sea Salt
2 T Coriander, ground
3 T Thyme, dried
3 T prepared Mustard
3 T Ume Plum Vinegar
2 lb Beef Rump Roast
1/2 lb Pork Belly, sliced
2 cups Red Wine
3 cups Beef Stock
6 oz. Coca Cola, optional (because cavemen didn't have it)
Preheat oven to 400 degrees.
Cut 1st 4 ingredients as described above and set aside.
Combine next 8 ingredients together to form a paste, and cover the roast in it completely.
Wrap the top of the roast with pork belly and set in the middle of a roasting pan.
Toss in the rest of the vegetables, stock, wine and soda into the pan.
Season liquid with a bit of salt and pepper.
Put roast in oven, uncovered, at 400 for 25-30 minutes.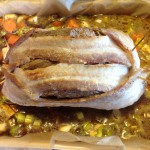 Reduce heat to 300, cover with foil, and let roast for 3-4 hours.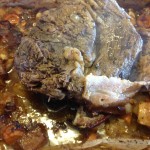 For best results, let sit in the fridge overnight, skim fat from the top, and reheat in the oven at 300 for another hour, uncovered. Turn over once halfway. Then remove the pork belly, chop it up, and mix in with the veggies and sauce.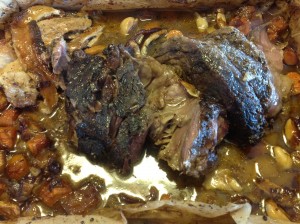 Enjoy!
Doryan Rice, Staff Chef