Rockin Rarebit
Texans certainly do love their cheese, not to mention their beer. And with our love of things like queso, you'd think more of us would know about the wonders of Welsh Rarebit. This sauce is like your favorite beer-based queso with the added zing of mustard, hot sauce, and Worcestershire. This recipe is one of my favorites, from Alton Brown. You can add in a bit more of the seasonings, depending on how much zing you want in your cheesy goodness.
You can use a bit of this, and freeze the rest for when you need to make the greatest sammich in existence. I won Best in Show at the Austin Grilled Cheese Invitational with this one, and now it's time to pass on the magic. You can eat this like an open-faced sandwich or cut in half as crostini for appetizers.
Rabid Rarebit Sandwich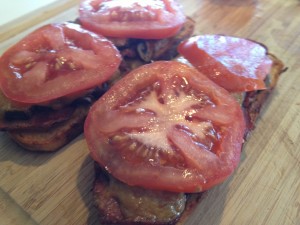 Makes 1 full sandwich or 4 crostini
4 Cremini Mushrooms, sliced
2-3 pieces Bacon (I used peppered Turkey bacon)
4 slices Tomato
3-4 oz Rarebit Sauce, warmed
2 slices artisan Bread (I used Whole Foods' Jalapeño Cheese Bread)
Salt, Pepper, Thyme to taste
Lightly toast your bread and prep your ingredients.
Heat a sauté pan and brown the bacon until desired crispness is reached. Remove and sauté the mushrooms with salt, pepper and thyme.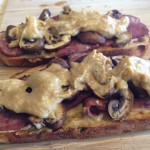 Assemble the sammys by spreading a decent layer of rarebit sauce on the toasted bread, followed by a layer of the bacon, a layer of mushrooms, and the rest of the rarebit spread over the top. Broil the tops of the sandwiches until the rarebit is melted and lightly browned.
Top these decadent dandies with the tomato slices, giving the decadence a nice healthy covering.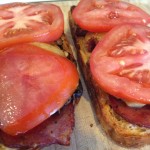 Serve with your favorite cold beverage. I usually slice them in half to make for easier eating. Yum!