Socca it to me! Vegan Crepes!
When you say the word "crêpe", many peoples' thought processes immediately go to that little voice that says, "I can't make those! They're too difficult!"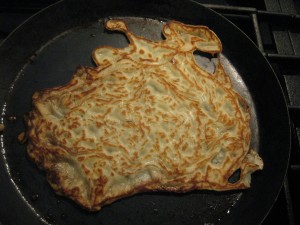 (Case in point)
*Source
Plus, the crêpe-y goodness is too often not for people who support a vegan lifestyle. Well, fortunately we are here to provide you with a solution to both of these concerns!
Socca is a Mediterranean flatbread invented in Genoa made from chickpea flour. It can be made thicker for dipping or thinner for crêpes. Either way, it's delicious, easier to flip, and 100% vegan and gluten-free! My favorite snack is to just tear these apart and dip them in some savory Romesco sauce. But, in a pinch, you can make a brilliant healthy pizza or fold it up with some leftovers in your fridge to create a new take on an old meal.
Socca Crêpes
1 cup Chickpea flour
2-3 T Olive Oil
1 t Garlic Powder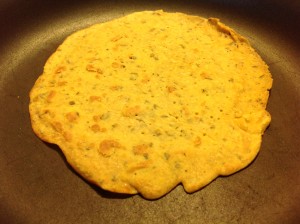 1/2 t Thyme
1/2 t Smoked Paprika
Salt and Pepper to taste
1 cup Water
Mix dry ingredients together, then add oil.
Slowly stir in water, mixing thoroughly, until a loose batter forms.
Let the mix sit for 1-3 hours.
Heat a sauté pan over medium-high heat and spray with a light coating of oil.
Pour about 1/3-1/2 cup of batter into the center of the pan. Then, hold above the heat and tilt it around until the batter covers most of the bottom in as round a formation as you can manage.
Return to heat and let cook for 2-3 minutes, until edges are set. Flip over, then let cook for another 2 minutes.
Romesco Sauce
6 cloves Garlic
1/2 cup Almonds, sliced
2 Red Bell Peppers, Roasted
1/4 cup Olive Oil
1 slice stale/toasted Bread, chopped
1 t Salt
1 T Smoked Paprika
1 can stewed Tomatoes
2 T Sherry
1 T Cider Vinegar
Heat the Olive Oil in a pan, and toss in toast, almonds, and garlic.
Combine with other ingredients in a food processor, and blend until smooth.
Your Snack is ready! You can dip away, or you can spread some sauce on it, pile on some sautéed ingredients, and bake at 400 for about 10 minutes.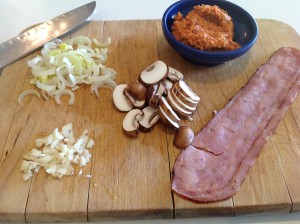 Here's what I used today.
1 slice Turkey Bacon
1/2 cup Leeks, sliced
1/2 cup Cremini Mushrooms, sliced
2 cloves Garlic, minced
1 t Thyme
Salt and Pepper to taste
Dash White Wine
Now, your meal is ready!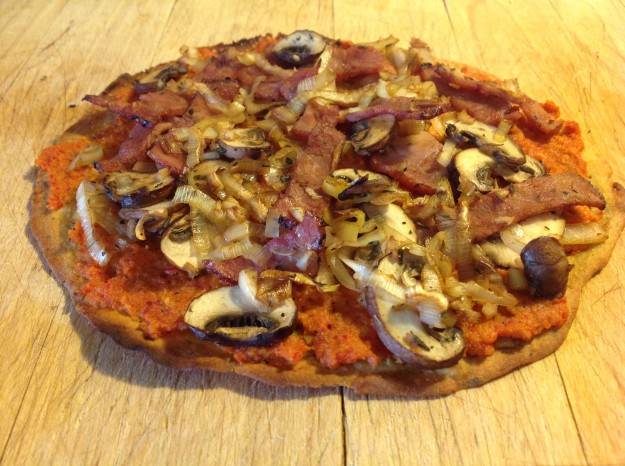 Doryan Rice, Staff Chef