Come to Jamaica Patties
Doryan Rice, Staff Chef
With the days getting longer, and the temperature on the rise, you'll have more excuses than ever to try out something new and delicious to beat the heat. In the Caribbean, the mixture of curry and chiles with tropical fruits is a long-standing tradition for just this purpose. Well, that…and it's just a fantastic combination.
My favorite Jamaican treat is the "beef patty," but beef and I don't get along much anymore, sadly. So here's a great version using ground turkey thigh meat, which is much healthier! If you want a red meat version with the same fat content, try ground buffalo!
Jamaican Turkey Patties with Avocado Crema
4 c flour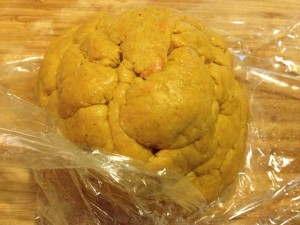 3 T curry
2 t salt
1 t paprika
1 1/4 c butter
Combine all ingredients in a mixer with a pastry blade. Mix thoroughly until a dough forms.
Wrap the dough in plastic and set in the refrigerator for half an hour or so.
While that's chilling, make your filling.
2 T curry
2 t thyme
1 t cumin
1/2 t allspice
1/2 t cardamom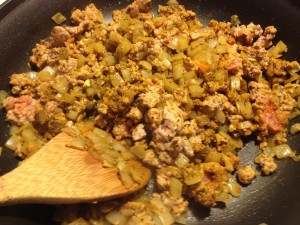 1 onion, chopped
1 lb ground turkey thigh or buffalo
4 cloves garlic, minced
1 habanero, chopped
1 Serrano, chopped
3/4 c stock
1/2 c scallion, chopped
1 c frozen peas
1/2 c bread crumbs
2 T sherry vinegar
Salt and pepper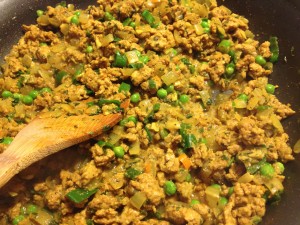 Begin by browning your meat in a skillet. When it's about halfway done, add in your onions.
When the onions turn translucent, toss in your garlic, peppers, and spices, including salt and pepper. Allow spices to cook in for at least 2-3 minutes, then add the vinegar and deglaze the pan.
Add in bread crumbs and incorporate thoroughly.
Stir in stock and allow to reduce for 10-15 minutes. Adjust seasonings to taste.
Finally fold in the peas and green onions. Allow to warm through.
Remove from heat, and allow to cool to room temperature.
Your final mix should have a bit of sauce incorporated, but shouldn't be "saucy."
Assembly time!
Pre-heat oven to 350.
Roll out a good portion of the dough and make an egg wash.
If you want large patties, roll them out individually. Me, I used a biscuit cutter to make them appetizer-sized.
Put a decent-sized dollop of filling in the middle, but leave enough room to fold it over and seal it up. Use a fork to mash the edges together, if you want a nice fluted effect.
Bake at 350 for 20-25 minutes on a parchment-lined baking sheet. Allow to cool.
Note: The one on the lower left is a small one that hasn't been rolled out enough. The other ones stayed together much better. So, if you're making the smaller ones for appetizers, make sure you roll them out.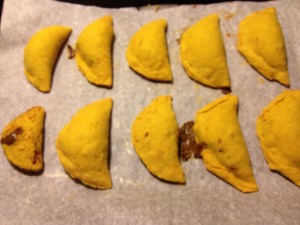 Avocado Crema
1/2 bunch cilantro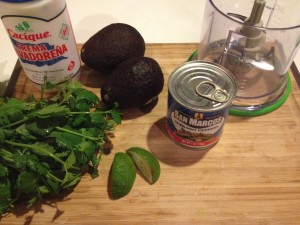 2 cloves garlic
Juice of one lime
3-4 canned serrano peppers, plus a fair bit of the pickling liquid
2 small avocados, diced
1/2 cup Crema Salvadoreña
Salt and pepper to taste
Combine all of the ingredients in a food processor and blend thoroughly.
Taste the mixture, and adjust seasoning to taste.
If it's too spicy, add more crema. If not enough, add more peppers and liquid.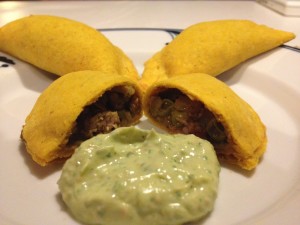 Just try and keep these to yourself!