Middle East meets Deep South
Doryan Rice, Staff Chef
The other night, I was inspired by the Veganomicon's recipe for BBQ Black-eyed Pea Collard Rolls and decided to jazz up what's already a fantastic recipe from a great book. As I was assembling and enjoying the flavors, I realized these are so similar to Middle Eastern dolmas that it's hard to ignore. So, with a few minor touches these can be a great snack or meal with a fantastic fusion flavor.
Southern BBQ Dolmas
12 large collard leaves
1 tablespoon Olive oil
1/2 an onion, diced
8 ounces cremini mushrooms, chopped
2-3 cups chopped collards
4 cloves garlic, minced
1 cup corn kernels
2-3 Fresno peppers (or other piquant lightly spicy peppers), Chopped
Salt, Pepper and Old Bay Seasoning
1 (15-ounce) can Black-Eyed or Purple-Hulled peas, drained and rinsed
2 cups BBQ Sauce (I chose Stubb's Sweet Heat)
The first step is to wash your collards while setting a large pot of water on to boil. My grandmother used to wash them 4 times in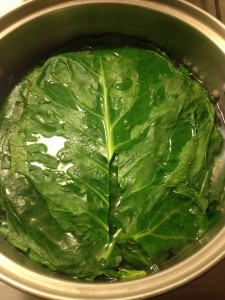 the sink to make sure they were grit-free. Pick out the largest, prettiest ones, and cut the thick stem off about 1/3 of the way up. Immerse them in the boiling water for about 5-6 minutes, using that time to chop your other ingredients.
Drain the collard leaves and allow to cool. In the meantime, sauté your onions, peppers and mushrooms. Add the garlic and collards when the onions turn translucent. Season with your salt, pepper and Old Bay, then add in the peas and corn. Let cook for about 5 more minutes on medium-low heat.
Add in 1-1 1/2 cups of the BBQ sauce and stir to incorporate. Reduce heat to simmer and let the flavors meld for about 10-20 minutes. Remove from heat and let cool.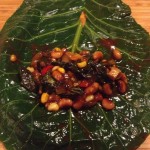 Once the collards are cool enough to handle, carefully separate them and roll in 2-3 tablespoons of the filling into each leaf, making sure the sides are folded in securely. Place them into a pyrex, topped with a drizzle of the BBQ sauce. Heat the rolls in the oven at about 350 for a few minutes to heat through.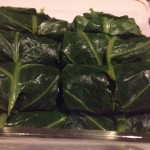 I served these for dinner over some baked sweet potato fries with a bit of chow chow to top them off.
Supremely delicious!