Springtime Holiday Treats
Doryan Rice, Staff Chef
The onset of spring is the beginning of warmth, picnics, and many many excuses for getting together with friends to celebrate. While you watch your calendar fill up with festivals and fêtes, remember to bring a little something to share. And these eye-popping, mouth-watering delights will ensure you're the MVP of any soirée.
Sadly, some of us don't get to celebrate the grand tradition of St. Paddy's Day. Either we have to work, have meetings, have band practice, or something just comes up. So, this year, I wound up staring into my fridge at the end of the evening, wondering what I could do to celebrate.

My usual attire
Luckily, I had some leftover veggies and bacon, plus a tube of crescent rolls. If you don't know yet, crescent rolls are the best ingredient to have on hand anytime you need an appetizer at the last minute. One tube can be rolled out and cut into 24 pieces, which can be stuffed, filled, or wrapped around any amount of deliciousness.
So, armed with parsnips, kale, bacon and a proper Guinness that was brewed in Ireland (only Guinness Extra Stout in the glass bottles fits that description these days), I set out to make a new St. Paddy's Day treat.
Rasher and Cabbage Turnovers
Corned Beef and Cabbage is a misnomer as far as traditional Irish food goes. There was a lot more beef in America than in Ireland, which is what the Irish immigrants substituted instead of their traditional "rasher" style bacon, which is made from salt-cured pork loin. I also used dino kale, because I really enjoy the flavor and it has more vitamins and such than cabbage.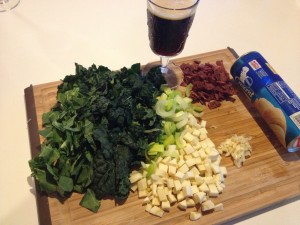 3-4 slices of Irish Bacon (or turkey or tempeh bacon)
1 leek, halved lengthwise and chopped
1 bunch dino kale, washed and chopped
4 cloves garlic, minced
2 parsnips, diced
1 tube Crescent Rolls
1 cup Guinness or Porter
1 egg, beaten
Cook the bacon until nice and crispy, then chop well and set aside.
Sauté the leeks in the bacon fat. Toss in the parsnips, kale and garlic. Stir to incorporate.
Add a bit of salt and pepper, a dash of red wine vinegar, and the beer. Cover and lower the heat, allowing the parsnips to cook until tender. About 15 minutes.
In the meantime, unroll the crescent rolls, one square at a time. Close that perforated edge down the middle, then roll out each one on a floured surface until you can cut 6 2-inch squares out of each. You can stack them all up for your assembly line.
Once the parsnips are tender, uncover the sauté pan and reduce the rest of the beer so it coats the vegetables. Remove from heat.
Time to assemble!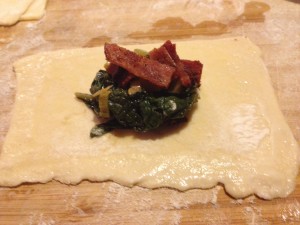 Spoon a hefty tablespoon or 2 onto each pastry square and top with a few pieces of the bacon
Brush the edges with egg and fold them in diagonally, giving you a nice, neat little package.
If you have extra egg (I didn't), you can brush the tops of the turnovers to give them a nice brown sheen.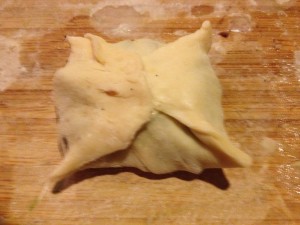 Bake the turnovers for 20-25 minutes until nicely golden brown.
Let cool for 5 minutes, and serve with your favorite beer or whisky.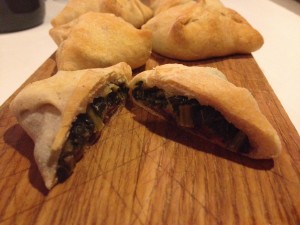 Slainte!
Easter-time Beet-pickled Deviled Eggs
These will make eyes pop and jaws drop, as people try and see if they can re-enact a certain famous scene from Cool Hand Luke. Of course, this will make it much tastier.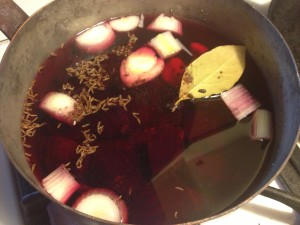 2 small beets, quartered
1 shallot, sliced
3 cloves garlic, smashed
1 bay leaf
1 t grains of paradise
1 T caraway seeds
1 T smoked black salt
1 T agave nectar
Combine ingredients in a pot and boil for 20 minutes. Place in the refrigerator to cool completely.
12 hard boiled eggs
If you don't know how to hard boil eggs, that's okay. I didn't know until I learned.
Place 1 layer of eggs in the bottom of a pot, cover with a couple inches of water and a cap-full of vinegar
Turn heat on high and set a timer to 15 minutes. Once the water reaches boiling, add a bit of salt and reduce heat to medium.
Prepare an ice bath before they're done. When your timer goes off, move the eggs to the ice bath and let them cool for a few minutes before peeling.
Once peeled, soak the eggs in the cooled brining liquid. I soaked mine for 4-5 hours. The color came through, but if you want more pickling flavor, leave them overnight or longer.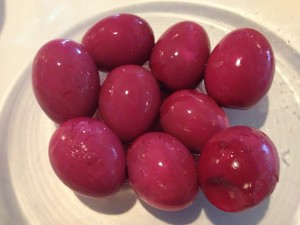 Now, to make these into delicious deviled eggs!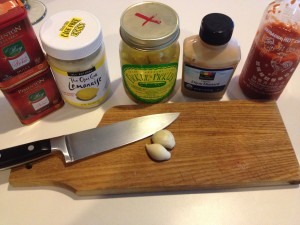 2 cloves garlic, minced
1/8 cup Spicy Bread and Butter Pickles, chopped
2 T Dijon mustard
3 T Ojai Lemonaise
1/2 t sweet smoked paprika
1/2 t hot smoked paprika
1 T sriracha
Paprika for garnish
Mix the above ingredients with the egg yolks. You can mix in a food processor, or by hand. If doing by hand, make sure you mash the yolks first before adding in the other ingredients. Otherwise, you'll have lumpy mix.
Taste and adjust seasonings, then spoon the mix into a plastic ziploc or pastry bag with a fancy tip.
Pipe the mixture into the egg whites, and sprinkle with the paprika to garnish. You may have to back out of the way once you set these out at your next shindig. Just to be safe.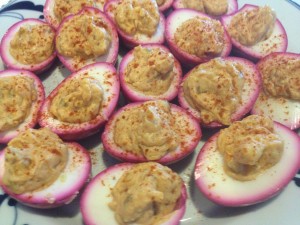 Enjoy!