Serrano Mojo de Ajo with Cilantro Lime Rice
Doryan Rice, Staff Chef
Latin foods are one of my favorites. With the plethora of Tex-Mex and other Latin restaurants in Austin, and most Texans focusing on cheesy enchilada goodness, it's easy to forget about the fantastic seafood options available. Latin cultures have so much access to the sea, they have perfected many simple (and some more complex) dishes that let the marisco love shine!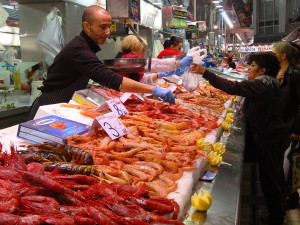 Pictured: All the marisco love
While fish tacos have taken the world over, there is a dish that falls by the wayside, and is done many different ways. Mojo de Ajo is a way to infuse as much garlic as one person can stand into each and every bite of seafood. I've heated things up a little bit with the addition of serrano peppers, and I've paired it with some fantastic cilantro lime rice. This sauce is highly addictive, so watch yourself!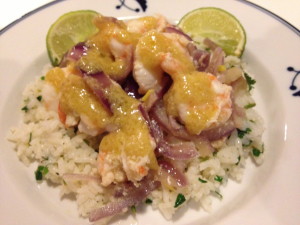 Serrano Mojo De Ajo
1 lb Shrimp, peeled and deveined
1 cup Olive Oil
3/4 cup Garlic Cloves, peeled
2 Serrano Peppers, seeded and chopped
1/2 a Red Onion, sliced thin
1/2 cup Lime Juice
Salt to taste
– Rinse your shrimp well, then season with a little salt and pepper. Set aside.
– In a small sauce pan, combine the oil, garlic, and serrano peppers over low heat. Simmer for about 20-30 minutes until the garlic is nice and soft.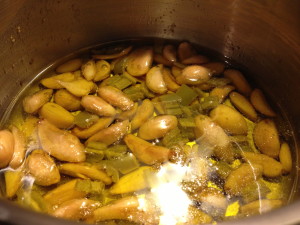 – Add in the lime juice and simmer for 3-5 more minutes.
– Transfer the mixture to a food processor, reserving 1 tablespoon of the oil, and blend well, adding salt to taste.
– Heat a skillet over medium high heat. Add the tablespoon of reserved oil and toss in the onions and shrimp. Sauté them for 2-3 minutes, then add in a couple of tablespoons of the mojo sauce.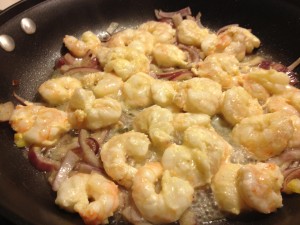 -Serve over the rice and top with a bit of the mojo over the top. And maybe…a bit more.
Cilantro Lime Rice
1 cup rice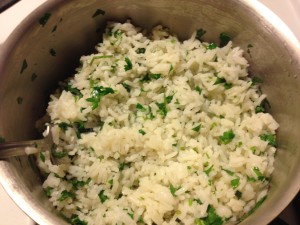 1/2 cup water or stock
2 T Butter
1/2 cup Cilantro, chopped
Juice of 2 limes
Salt to taste
– Pour the rice and water or stock into a pot. Turn heat up to high, and cover.
– Once the water is boiling, turn down the heat and let simmer for 20 minutes.
– When the timer goes off, remove from heat, toss the butter on top, and cover for 5 minutes.
– Finally fluff your rice with a fork, and mix in the rest of the ingredients thoroughly.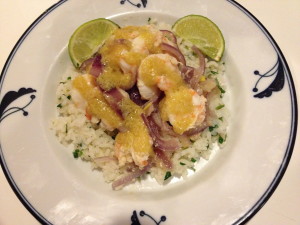 Enjoy!