A Veggie Chef in France
Doryan Rice, Staff Chef
It's been 13 years since I've been out of the country, and my family has now decided to re-institute the "family trip." Heck, if that means a free trip to France, I'm happy to spend it with my family, no matter how Grizwoldian it may potentially be.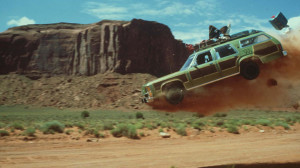 Complete with family truckster
As France is so well known for cuisine, many were probably expecting nothing but outstanding flavors and fanciness. But there's more than one way to eat in France, and we found some great spots both in the city and out in the countryside. Having a rental car really helped us find those little out of the way spots in the smaller towns. One word of advice, though. Make sure you get to these spots before 2pm! Otherwise, you may end up being hungry since lunch service stops around then.
My First Lunch: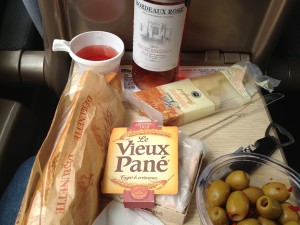 This is by far the best way to enjoy your first day in France. You're jet lagged, your French hasn't quite kicked in yet, and you still have a train ride ahead of you. What do you do? Go to the little épicerie that's located in or near most major train stations. Get yourself a bottle (or two) of wine, 2 kinds of cheese (one hard, one soft), a baguette and some olives. While your family falls asleep, you'll have it all to yourself.
Small town dining:
Breakfast is an important meal, especially when traveling. Our hotel charged 12 Euros for what amounted to a continental buffet. That's ridiculous in my mind! Just walk around the corner and find a Boulangerie! The folks there buy their bread fresh daily, and the bakeries have some amazing sweet and savory treats to tide you over until lunch.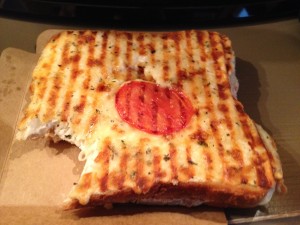 Chevre Monsieur with fresh Tomato= best breakfast ever!
And when lunch rolls around, just find a nice place by the sea, enjoy some Moules Frites and Fruits de Mer. Or perhaps a nice crepe! Most places have a prix fixe 2-course menu even at lunch, which ends up being quite a bit of food, but a great deal!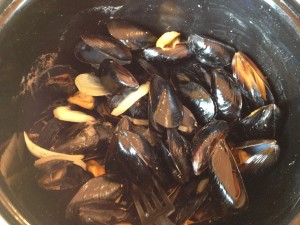 I never thought I'd say this about French food, but…these could've used more butter.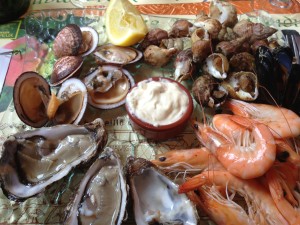 Word to the wise, Fruits de Mer are served cold. And the whelks (snails) can be a little rubbery.
There's plenty of great fancy food in the small towns as well. While they were not all picture perfect or quite tasty enough to make this list, the following meal from a place called La Rapiere was one of the most outstanding meals I've ever had. Plus, the owner was lovely and gave us brilliant service. I'd have moved to Bayeux in a heartbeat, if her husband didn't happen to be the chef of the same establishment. Ah, the good French ones are always taken. Still, we'll always have this meal.
Mediterranean Vegetable Maki wrapped with Zucchini, topped with Chevre, and paired with a Beet Purée. I don't even like zucchini! Or really enjoy some of the other vegetables involved here, but I ate the heck out of this and enjoyed it all.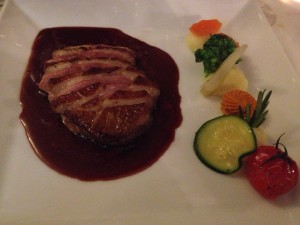 Smoked Duck Breast with Port Wine Reduction. And each of those little vegetable bites and piped veggie purées was completely simple, yet totally satisfying. This dish won the main event, hands down.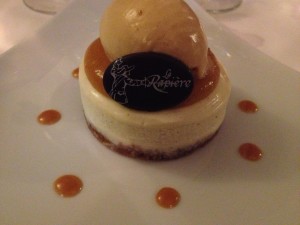 Creme Brulée Cheesecake with salted caramel and homemade ice cream. This one won the dessert challenge. And my heart.
Big City Dining
Once you make it into Paris, you've got a lot of decisions to make. We stayed at an apartment in Montmartre, and the amount of cuisine that you have to choose from is staggering. That's just in one neighborhood! Be sure to get yourself a couple of apps like Yelp and Trip Advisor  to search around your area and find some great spaces. And speaking of space, these places are not built to give you space. They're designed to fit as many people as possible into these rather old buildings. As such, don't be surprised if your waiter pulls out the table (rather than your chair) to let you sit. And if you're looking for a nice night in, you can find delicious rotisserie chickens and fresh vegetables on nearly any street corner.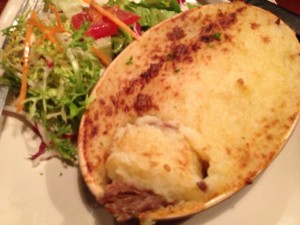 Duck Confit Shepherd's Pie. Yes, I'll have to re-create this.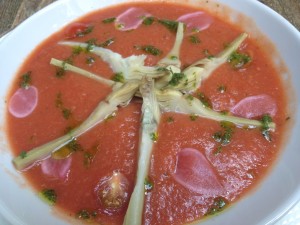 Le Moulin de la Galette is a great spot for lunch or dinner. We tried both. This was my lunch Gazpacho with shaved Radish, Artichokes, and Basil Oil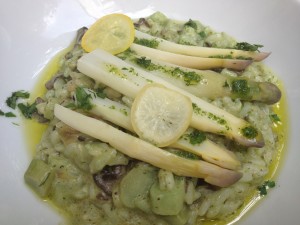 Mushroom and Asparagus Risotto with Lemon and Pesto. Yes please.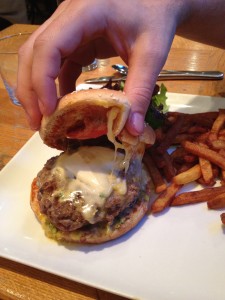 Even the Hamburgers are great! With Camembert and Frites! Just so you know, when ordering meat there are different temperatures in France. Blue, Rare, Medium and Well. So if you want Medium Rare, get "rare plus."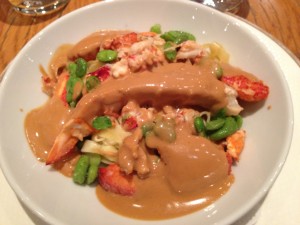 Lobster Taglitelle with Fresh Peas and a Bisque Sauce. Yes, you heard that right. And yes, it was that amazing.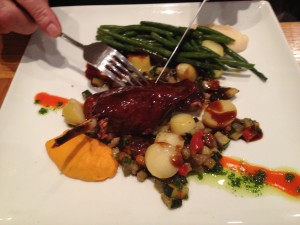 Duck Confit with Haricots Verts. And lots of other amazing things on that plate. These folks really brought it home.
The Cheese Course:
One of the things that you hear about, but aren't going to really be prepared for, is the cheese course. I swear there were some clothes that I brought on this trip that didn't fit halfway through the week, and I completely blame the cheese course. They just bring around this board of amazing cheeses. Sure, you can say that you only want to try 2 or 3 of them, but they'll be generous amounts. As a result, I'm not going to show you any cheese course pics. Just to spare you. And my waistline.
Instead, here's a picture of the best street art I've ever seen.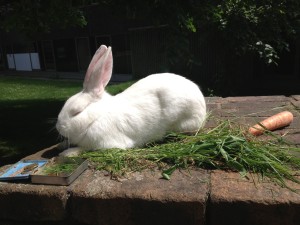 Yes, someone just left their rabbit on a wall with some treats, a carrot, and a bin for money. Obviously, it worked!
Safe travels, and happy eating!