Best Lettuce Wraps ever!
Staff Chef, Doryan Rice
Summer time is here! Ah, summer. With its sweltering heat, its bikini-clad sunbathers, and the knowledge that your New Year's Resolution to lose 20 pounds didn't quite go so well. What to do? I say ignore the food truck with the duck fat fries and truffle aioli that hangs around your favorite swimming hole, taunting your love for all things fried and emulsified.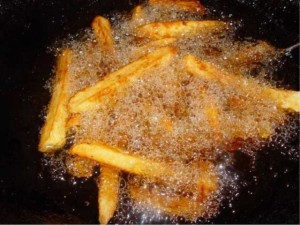 Swim, my little pretties…
So, what to do? Distract your mouth with some foods that are crispy, healthy, and flavorful. Having something that's on the cool side is a great idea as well, just help you beat the heat. And since the Mediterrenean Diet is all the rage nowadays, give this little paleo twist on a traditional treat will hit all the tight spots, and help to keep the pounds off!
Turkey Kafta Lettuce Wraps with Cucumber Salad and Roasted Garlic Tahini Sauce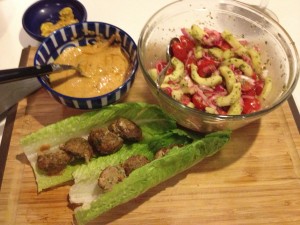 Let's start with the salad, since the onions need to marinate.
Tomato Cucumber Salad
1/2 cup Red Wine Vinegar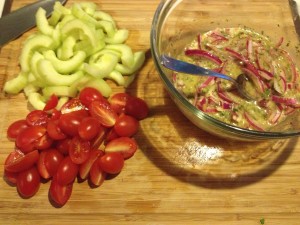 1/2 cup Extra Virgin Olive Oil
1 T Dijon Mustard
1 T Agave Nectar
3 cloves garlic
1/2 cup Parsley, chopped
1 cucumber, peeled and seeded
1/2 pint Grape Tomatoes, sliced lengthwise
1/2 Red Onion, quartered and sliced
Combine the first 6 ingredients in a food processor and blend until smooth. Season to taste
Toss the onions in the dressing and let it sit for about an hour.
Add in the cucumbers and let marinate for about 1/2 an hour more.
Finally, toss in the tomatoes.
Turkey Kafta Meatballs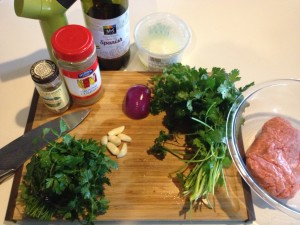 1.5 lbs Ground Turkey Thigh
1 cup Bread Crumbs or Almond Flour
2 eggs
1/2 cup Parsley, chopped
1/2 cup Cilantro, chopped
8 cloves Garlic, minced
1/2 an Onion, finely chopped
2T Cumin
2T Coriander
Salt and Pepper to taste
Pre-heat oven to 350
Combine all ingredients in a glass bowl and mix well.
Form into meatballs. You should get between 12 and 16, depending on size.
Place on a greased baking sheet lined with foil or parchment
Bake for 20-25 minutes
Roasted Garlic Tahini Sauce

1/3 cup Roasted Garlic cloves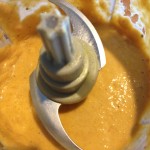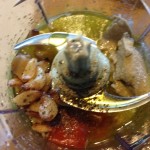 4 T Tahini
Juice of one lemon
2 T Sriracha Sauce
1/3 cup Extra Virgin Olive Oil
Salt and pepper to taste
Combine above ingredients in a food processor
Adjust seasonings
If the sauce "breaks", add a bit of water and re-blend until smooth
In order to assemble this properly, so that you can wrap this all without too much spillage, cut the meatballs in half before placing in a leaf of romaine. Top that off with a bit of salad and a fair amount of the sauce and enjoy this flavorful treat!