Cajun Vietnamese Fusion
Doryan Rice, Staff Chef
The Gulf Coast is a remarkable place. Not only are we derived from so many former rulers that Texas has 6 flags, but we've become the home to numerous cultures that find our heat, humidity, and proximity to water irresistible. Thankfully, many of these groups have been here for so many generations that they've developed a sincere love for fusing their traditional tastes with those they've found here.
Take, for instance, the PaNaani that's growing in popularity (along with other naan-themed wraps), or the "Steak and Eggs" that's become "Migas and Fajitas." Heck, Paul Qui has gone even further with his new East Side King kitchen that produces a stunning Chicken Tortilla Ramen. But by far, the coolest one that hit the scene a few years back was the Viet-Cajun fuse-a-thon.
Vietnam's terrain isn't too different from areas of Louisiana and Texas. Heck, they even have crawfish over there, and already have some French influence as well. When our favorite place, "Hot Boiled," closed up shop, we were heartbroken that we'd never get their Cajun Pho again. I was challenged by my friends to re-invent it. Sadly, it wasn't as good as I'd hoped, so I can't share it here. Not yet, anyway. However, the inspiration gave me one of my best dishes to date!
Cajun BBQ Shrimp Banh Mi Sliders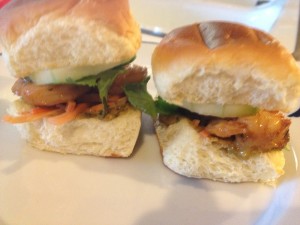 Best. Party-food. Ever.
Let's start with the spread.
Sriracha Lemon Aioli
1/3 cup Mayo or Aioli
Juice of 1/2 Lemon
2T fresh Parsley, chopped
2 cloves garlic, minced
1T Sriracha sauce
Combine all ingredients together until well blended. Set aside until assembly time.
Next, get your shrimp ready
Cajun BBQ Shrimp
Cajun "BBQ" has nothing to do with grilling or barbequeue in any way that we think of here. But darn it, it's delicious. And filled with butter!
1 lb Shrimp, peeled and deveined
2-3 T Blackening Spices
1/3 cup White Wine
Juice of 1 Lemon
1/2 cup Green Onion, chopped
1/4 cup Worcestershire Sauce
2-4 dashes Tabasco
1/4 cup Butter
Toss the shrimp in about 2/3 of the seasonings and let sit for a bit.
Sauté the shrimp in a bit of oil or butter for just a minute or two each side. Then, remove and set aside.
Deglaze the pan with the white wine, then add in everything else but the butter. Reduce by half to 2/3.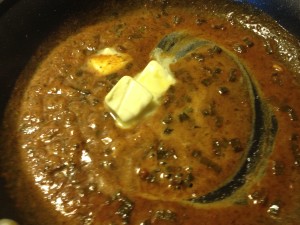 Toss the butter in the pan and stir around to "mount" the sauce.
Finally, toss the shrimp back in to coat, and remove from heat.
Assembly Time!
24 Sweet Hawaiian Rolls
2 cups Carrots, grated or julienned
3 T Rice Wine Vinegar
1 bunch Cilantro, chopped or de-stemmed
1 Cucumber, peeled and sliced
1-2 fresh Jalapeños, sliced thin
Slice the rolls in half and toast briefly
Soak the carrots in the vinegar for at least 10 minutes
Set out both halves of each roll on a work surface, and gather all your ingredients.
Spread a bit of aioli on the top bun, top with cucumber and jalapeño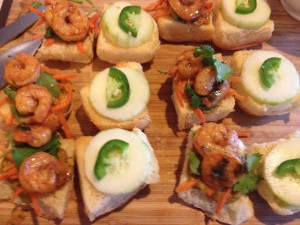 Place cilantro, carrots and 1-2 shrimp on the bottom bun, spooning a little sauce over the shrimp
Put it all together, and what have you got? Something your parties will be talking about for ages!