Smoked Paprika: a chef's best kept secret
Doryan Rice, staff chef
I grew up not knowing why people used paprika. I'd occasionally pull out the large, yellow TexJoy container with the mysterious red powder inside. Mysterious because when I tried to smell it, there was no real aroma that I could discern. Likewise, a finger full to my tongue didn't yield a flavor that I could pinpoint. It just…didn't taste like much. But when I discovered Hungarian and Spanish Paprika that was smoked, I knew I'd found a new culinary secret.
Or at least new to me. Paprika is one of those spices that's so prevalent in so many countries, it's downright confusing these days. Paprika refers to what I'd call a collection of spices that all revolve around one main component- smoked or roasted peppers of the Capsicum Annuum variety. Of course, this means it ranges anywhere between bell peppers, piquant peppers, and chile peppers. Taking the general variety of peppers this encompasses, and how many countries have embraced this spice, it's no wonder we can't put it into a single profile.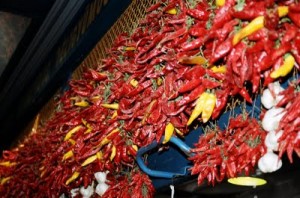 Paprika at a Budapest market (source)
After discovering the wonders of Smoked Paprika, I resolved to use that amazing flavor anywhere I could find an excuse for it! If you can find a good Spanish Paprika that comes in both sweet and hot varieties, you've got some great flavor just waiting to be unleashed. The combination of the two rounds out dishes perfectly.
Since we're getting into the warmer days here in Texas, it's time to look for simpler meals that can be eaten anytime, and cooler dishes that don't get your body temperature closer to that of a baking sidewalk. That's why I decided to prepare my simplest Paprika Chicken dish with a refreshing Orzo Pasta Salad. You can substitute farro if you'd like something a little more rustic.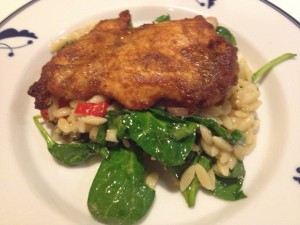 Smoked Paprika Chicken Thighs with Mediterranean Orzo Salad
First, get your meat marinating!
8 Chicken Thighs, boneless and skinless
4 T Extra Virgin Olive Oil
2 T Smoked Paprika (1/2 Sweet and 1/2 Hot, preferably)
1 T Garlic Powder
1 T Cumin, ground
2 T Cider Vinegar
1 t Sea Salt
Fresh ground pepper
Pre-heat oven to 375, or get your charcoal going, if using a grill.
Combine all above ingredients except the chicken and mix well to form a marinade.
Toss in chicken thighs and mix well to coat. Let marinate for at least 30 minutes to an hour.
When ready, cook the chicken in the oven for about 20 minutes, or grill for 5-7 minutes a side.
While
that's marinating, get your dressing ready and start your water boiling with a sprig of rosemary and a bit of salt in it.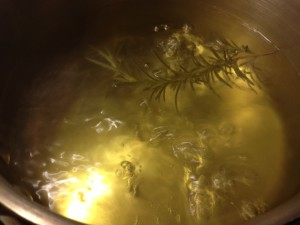 Sherry Wine Vinaigrette 
2-3 cloves Garlic, minced

1 T Dijon Mustard
1 T Agave Nectar or Honey
Salt and pepper to taste
3/4 cup Extra Virgin Olive Oil
1/4 cup Sherry Vinegar
Mix above ingredients together in a non-reactive bowl and whisk thoroughly.
Now
, let's get that salad working!
Orzo Pasta Salad with Fresh Spinach
1 cup Orzo pasta
1-2 Shallots, sliced
1 sprig Rosemary
1/8 cup Capers
1 Red Bell Pepper, roasted, skinned, and seeded
1-2 handfulls of fresh baby Spinach
1/4 cup Feta, crumbled
Toss the shallots in the vinaigrette and let marinate for about 30 minutes.
Remove rosemary from the boiling water once soft, and stir in pasta. Drain and let cool.
Meanwhile, toss the rest of the vegetables except for spinach into the vinaigrette.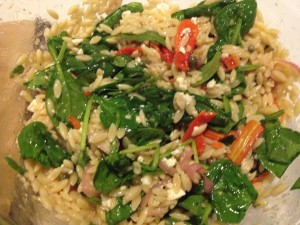 Once the pasta is ready, toss in the rest of the ingredients. The spinach should wilt a little, but remain mostly raw.
Serve with the chicken and enjoy a light meal that's full of flavor!