Patriotic for Pies
Doryan Rice, staff chef
A few months ago, I gave away some of my new favorite treats for St. Paddy's and Easter. 
You're welcome.
And as the 4th of July approached, I saw this post from UseRealButter.com, and decided they would make a great treat to bring around to the many many parties that I was invited to. Ah, the pains of an active social cooking life! Still, as I went around distributing these little pillows of happiness, I realized I missed out on a great opportunity to honor the special day. Heck, why not make them red, white and blue?!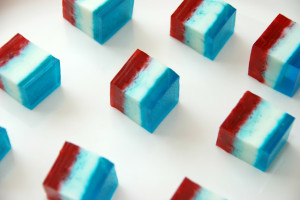 It's a safer idea than patriotic Jell-o shots
So I took some time and leftovers, and I came up with a great recipe for red, white, and blue hand pies! I took them to a gathering of friends, and they disappeared faster than potato salad at a picnic!
Patriotic Hand Pies

Makes about 20 pies
1 package (2 sheets) Puff Pastry

1 Egg, beaten with 2T water
1/2 pint fresh Blueberries
1/2 pint fresh Strawberries, halved and sliced OR whole raspberries
Juice and zest of 1 Lemon
1/2 cup Sugar
3 T Corn Starch
1 T Cinnamon
1/2 t Sea Salt
8oz Cream Cheese
-Pre-heat oven to 375.
-Start by mixing sugar, corn starch, and cinnamon together with the lemon zest. Whisk together until well incorporated.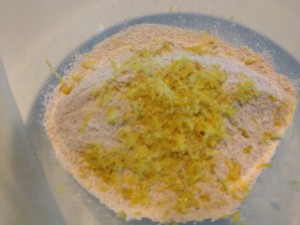 -Next, mix your berries, separately, in two bowls with the salt and lemon juice. Toss in your dry mixture and mix well. if you're using strawberries, keep in mind they'll release a lot of liquid. Raspberries won't, but be careful not to crush them.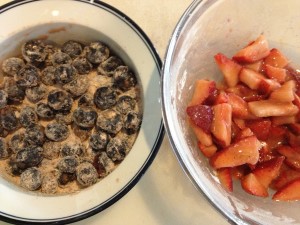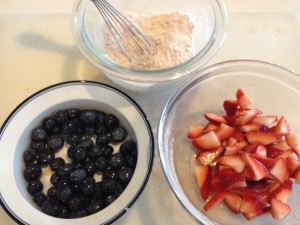 -In using cream cheese, keep in mind it's not going to be easy to work with. I froze mine and then sliced it into about 20 pieces. These turned quite gooey as they quickly thawed. Make sure you have a knife or small rubber spatula to transfer them.
-Roll out your pastry dough on a well-floured surface, and cut into 10 pieces, repeating with the second sheet.
Now set up your assembly line!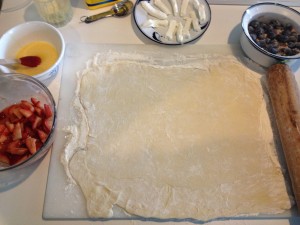 -Line a cookie sheet with parchment paper or use a Silpat.
-Take each piece of dough, rolling it out a little more, if necessary. Don't make it too thin! Line up a bit of each of the berries with the cream cheese in the middle.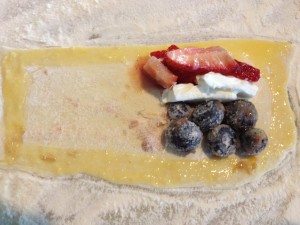 -Brush the edges with egg wash, fold over, and crimp the edges with a fork. Transfer to the baking sheet.
-Cut a few slits in the top, allowing the pressure to escape.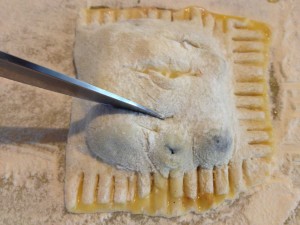 -Continue until one sheet is full, then brush with egg wash and bake for 20-25 minutes until golden brown. You'll have to make at least 2 batches, most likely.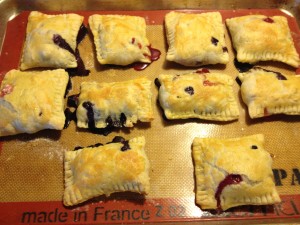 Allow these to cool for a bit, then release them to the awaiting masses. You may want to hide a few for yourself!