Rollicking Risotto
Doryan Rice, Staff Chef
Risotto is one of the first dishes I learned to make in my folks' kitchen. My dad was always a great cook on the grill with wild game and seafood. There were some great east Texas and Cajun recipes that he'd mastered over the years as well, but nothing like risotto. Once he started working on recipes involving this wonderful wide-grained rice dish, I just felt the need to follow in his footsteps. My first success (and the one I've made oh, so many times) was a Basil Pesto Walnut Risotto. And it's probably still the most well received one I serve.
I had a great version in Paris at a lovely bistrot in Montmartre. If you haven't seen it, check out the France blog. And if you're too busy to do that, I'll just show it to you here.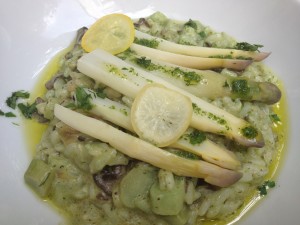 I found a new respect for white asparagus that day.
The key to risotto, as so many chefs will tell you is Stir Stir Stir! You saute the rice with onion and garlic, then have a pot of simmering broth, adding a little bit at a time. Then, you just fold it in and stir it around over and over. This recipe is one that I've been trying to perfect ever since I had its like in San Francisco. It came with Dungeness Crab, Artichoke, and Meyer Lemon. I've been chasing it ever since.
A note on crab: Let's face facts. The "fresh lump crab" you get packaged in Texas just isn't going to taste the same. If you want a full-on proper west coast crab flavor, go ahead and spend extra money and get some good in-shell crab. Steam it a bit, and get it out of the shell, then add it on top just prior to serving.
Risotto with Crab, Artichoke, Lemon and Thyme with Roasted Asparagus
1 cup Arborio Rice
3 cups Stock
1 cup White Wine
2 T Extra Virgin Olive Oil
1 Onion, diced
1 can Artichoke Hearts, quartered
4 cloves Garlic, minced
2-3 T fresh Thyme
Juice of 2 Meyer Lemons (or juice and zest of one lemon and one orange)
8 oz fresh Crab Meat
Salt and pepper to taste
Bring the stock to a boil, then reduce heat to simmering.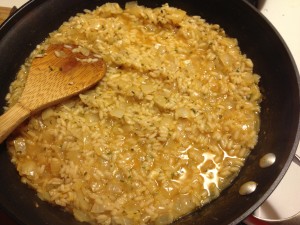 Heat the olive oil in a deep saute pan. Cook the onions until they sweat, then add in the rice and continue to saute.
Add in garlic and 1/2 the thyme once onions are translucent, and stir in for about 30 seconds.
Deglaze with white wine, and continue stirring until it starts absorbing. Then, add in 1 cup of stock.
Continue stirring until most of the stock is absorbed, then add another 1/2 cup and repeat. This process will take a bit, but ensures even cooking of the rice.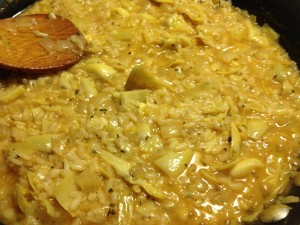 When the risotto is almost ready, add in the artichoke hearts, lemon juice and zest, and rest of the thyme.
You can fold in the crab meat if using lump, or serve over the top if using freshly shelled crab.
1 bunch Asparagus
2 T Extra Virgin Olive Oil
1 T Garlic Powder
1/2 t Sea Salt
1/4 t fresh Black Pepper
Heat oven to 450 and turn on broiler.
Toss asparagus in oil and seasonings.
Spread out on a foil-lined sheet pan, and place under the broiler for 45 seconds to a minute.
And they should be ready!
Serve this meal with a nice salad and some white wine. You won't be sorry!