Vegan Feijoada: A tasty challenge
Doryan Rice, staff chef
I admit it. I love Anthony Bourdain. I don't always agree with everything that he says, but he has a unique perspective on culture via cuisine that's fascinating to watch. On my last trip abroad, I had the pleasure of watching one of his "layover" episodes from Sao Paulo. In it, he ate a phenomenal amount of food in 24 hours. But the best was watching him talk about feijoada, describing it as a: "Big plate of piss poor, poor people food elevated into something that everybody loves."
Sometimes it's the foods developed by the poorest people in the world that become a staple of national cuisine. And those dishes, so simple and yet elegant, are now national treasures. Feijoada fits into that category perfectly. Slaves and poor people who couldn't afford anything but the leftover meats mixed it with beans and rice to create a sublime comfort food.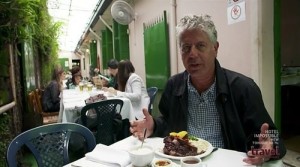 "Sightseeing after feijoada? Inadvisable."
Because it's so meat-centric, I've always struggled to find a way to make a vegetarian version of this. For years, I just put in more sweet peppers, yuca and sweet potato. It was always a hit, but just not the same. I think this version may have finally hit the right combination, now that vegan meat technology has advanced a bit.
Vegan Feijoada
1 Onion, diced
6 cloves Garlic, minced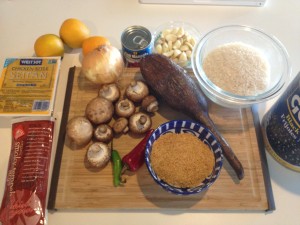 1 Serrano, chopped fine
1 Fresno pepper, diced
1 package Tempeh Bacon
8 Oyster or Cremini mushrooms, chopped
2 Chipotle Peppers, chopped well
1 Yuca root, peeled, quartered, and sliced
2 T Thyme
1 package Seitan, chopped
2 medium cans Black Beans
2 cubes Vegan No-Beef Bullion
3-4 cups Water
2T Red Wine Vinegar
Garnishes (see below)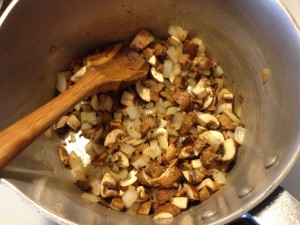 -Saute the tempeh bacon in oil until it starts getting crispy (but not too crispy). Then, chop it up while you saute the onions and mushrooms.
-Once the onions are translucent, add in the bacon, peppers,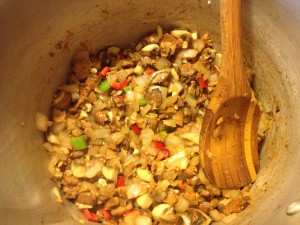 thyme and garlic. Stir that for a bit, and deglaze with the vinegar.
-Stir in the bouillon and seitan, incorporating well, then add water.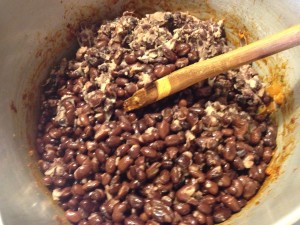 -Mash 1/4 of the beans, keeping the others whole. Add them all in with the yuca, water to cover, and bring the mixture to a boil. Then simmer for at least an hour.
-Adjust seasonings. It shouldn't be too spicy. Traditionally, it's actually rather salty.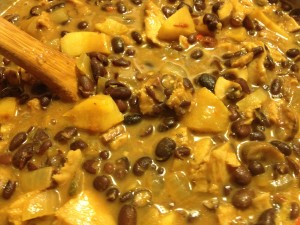 A note on beans: You can choose weather or not to add in the liquid of the canned beans. Or you can go the long route and use dry beans. Either of these options will give you a much darker (and likely more traditional) broth/sauce. You'll notice mine looks creamier, due to the inside of the mashed beans adding their coloring.
Now, while all of that is stewing take care of prepping and cooking your garnishes.
Garnishes and Rice
3 oranges, wedges sliced out of their pith
2 cups rice, uncooked
3 cups stock
Manioc meal or almond flour, toasted in a dry pan
1-2 bunches Kale or collards, thinly chopped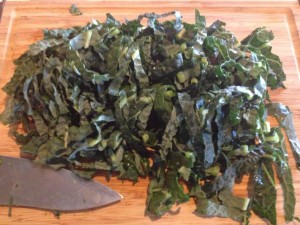 Oil for Sauteing
Garlic Powder
Salt and Pepper
1 T Red Wine Vinegar
-Cook the rice in the stock for 20 minutes.
-Saute the greens in the oil and season with the other ingredients.
Serve the feijoada over rice and garnish with your choice of any or all the garnishes. Have some hot sauce handy if you like the heat!