Leftovers to the rescue!
Doryan Rice, staff chef
Sometimes you make a dish that's so amazing, you can't believe that you get to eat it for lunch the next day. And when the next day comes, you really can't believe that your roommate ate the rest of it in the wee hours of the morning. Food rage is almost as dangerous a condition as road rage, kids (or any other kind of rage, I'd imagine). So, instead of getting all bent out of shape, kicking in doors, and throwing your best wooden spoon at your living partners, take a deep breath. Look in your fridge, find ingredients you didn't use all of yesterday, and re-make them into something that's even better.
And share them with those that wronged you. After all, they must be starving for good food. And you're obviously the only one in the house who can cook properly.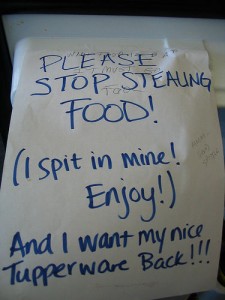 Of course, sometimes it just takes a politely-worded note.
After making my vegan feijoada the other week, I found myself with a lack of leftovers (presumably because it was so incredibly tasty). What I did have, however, was some extra rice, black beans, and kale. Combine that with a couple other ingredients, and you've got a tasty treat that will hit all the right spots!
Coconut Beans and Rice with Sesame Kale and Egg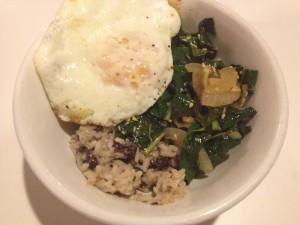 First, get your beans and rice working.
Leftover black beans (or a regular-sized can, drained and rinsed)
1 cup Jasmine or Basmati Rice
1 t ground Nutmeg
1 t dried Thyme
1 can Coconut Milk
1 t Salt
pepper to taste
-Get your rice into a pot, and mix in the nutmeg and thyme over medium heat. Stir well, just to get the aromatics blossoming.
-Add in your coconut milk, then bump the heat up to high.
-Once it starts boiling, stir in the salt, cover, and reduce heat. Set your timer for 10 minutes.
-When the timer goes off, add in the beans, leaving them on top. This will give them a bit more flavor without disturbing the rice's cooking.
-Cook 10 more minutes, covered, then remove from heat. Let sit for 5 more minutes before removing the lid and fluffing with a fork. Adjust seasonings.
Now, during that 20 minutes, you'll have time to get the rest ready.
Sesame Kale
1 bunch Dino Kale, washed and chopped
1/4-1/2 an onion, quartered and sliced
2-3 cloves Garlic, minced
1-2 t Toasted Sesame Oil
1 t Cider Vinegar
toasted Sesame Seeds
Salt and Pepper to taste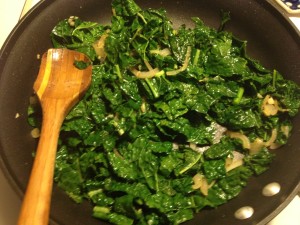 -Saute the onions first, adding in the kale after about a minute.
-As the kale wilts, add in your garlic and the rest of the ingredients. Stir well to incorporate.
-NOTE: The sesame oil is for flavoring, rather than cooking. The flavor will dissipate if it gets too hot.
Now, your rice and kale should be ready. Fry up an egg to your liking. Remember to salt and pepper the egg before you flip it. I like mine over medium, but it's up to you.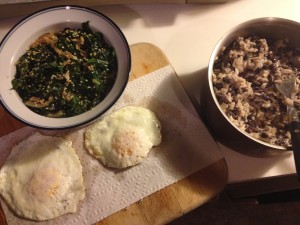 Serve a bowl of the bean and rice mixture topped with the kale, and then the egg. It's really quite a pretty dish. Plus, it's full of flavor, and has all kinds of healthy nutrients in there!