Return of the Green Chile
Doryan Rice, Staff Chef
I know, I know. I posted about this last year. And I may post about it again next year. Why? Because you can never have too many things with green chile in them. Whole Foods and Central Market make sure you know this by bombarding you with fresh and roasted chiles all over the place. Heck, I even found green chile chicken and turkey sausages at the meat counter. But what to do with them? Something special needed to happen.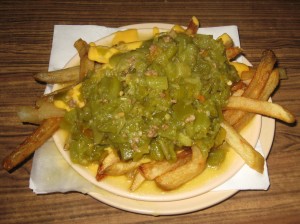 Correction: Special, but not quite this special.
So, after I resisted the urge for green chile queso fries, I came up with a meal that's much healthier, and has great flavor. I hope you enjoy it!
Sausages with Green Chile Corn Beer Blanc, Southwestern Hash, and Avocado Salad with Heart of Palm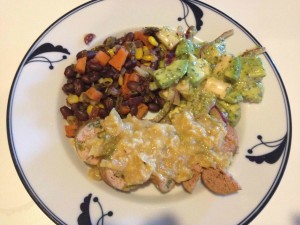 It's easier than it sounds. Let's get started!
Avocado Heart of Palm Salad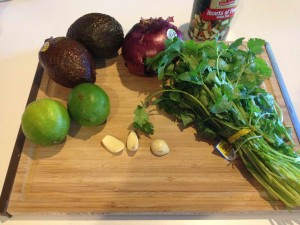 1/2 bunch Cilantro
3 cloves Garlic
juice of 1/2 limes
1 T Sugar or Agave Nectar
1 T Dijon
1/3 cup Extra Virgin Olive Oil
salt and pepper to taste
2 Avocados, diced
1 can Hearts of Palm
1/2 Red Onion, quartered and sliced
– Put everything except the Avocado, Palm, and Onion into a small processor and blend well.
–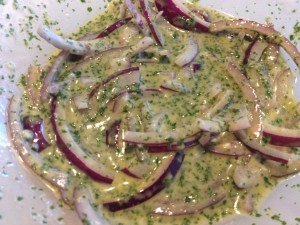 Toss the onions in and let them sit for about half an hour, then toss in the hearts of palm.
– When ready to serve, throw in the avocado and mix well.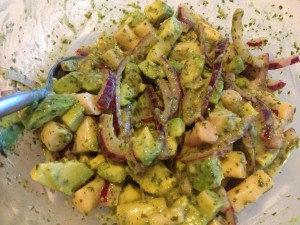 While that's marinating, get your prep for other dishes going!
Southwestern Hash with Corn, Black Beans and Sweet Potato
1/2 Red Onion, diced
3-4 Roasted Green Chiles, seeded, peeled and chopped
1 small Sweet Potato, diced
4 cloves Garlic, minced
1 can Black Beans, drained
1 cup Corn kernels
1 T Oregano
2 t Thyme
1 T Red Wine Vinegar
salt and pepper to taste
– Sauté the onions in a bit of oil, adding the sweet potato after about a minute.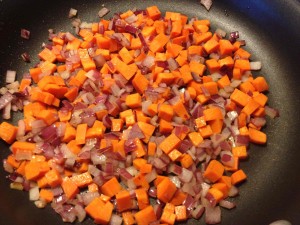 -Add in the garlic, chile, and spices, letting them cook in for about 45 seconds, then deglaze a bit with the vinegar.
-After another couple of minutes, stir in the other ingredients. If you've started cooking the sausages, add in about a 1/2 cup of the beer. Lower heat and let the flavors meld while you get your sauce and sausages ready.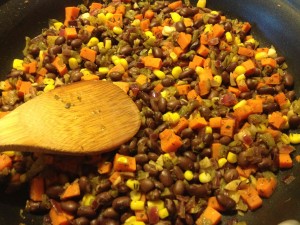 Sausages with Green Chile Corn Beer Blanc
2-4 Sausages (I used Green Chile Chicken with Cheddar)

1 can good Beer (I used a Lemongrass Saison)
1 Shallot, halved and sliced
1 roasted Green Chile, peeled, seeded, and chopped
1/2 cup Corn kernels
juice of 1 Lime
salt and pepper to taste
1/4 c butter (optional, see below)
– Heat the beer in a sauce pan and boil the raw sausages for about 10-15 minutes.
– Move the sausages to your toaster oven and cook for another 10 minutes. Keep warm.
-Reserve 1/2 cup of the beer mixture to add to the hash (see above). For the rest, add in the shallots and reduce the amount of liquid to about 1/2 cup, adding in lime.
– Once liquid is reduced, stir in the green chile. Puree the corn and stir in as well.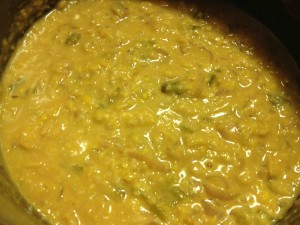 – Season to taste, then (if needed) add in a bit of butter, removing from heat and stirring to incorporate. It's just as tasty without the butter, but it'll add in extra volume, as well as some lovely buttery flavor.
– Spoon over the sausage slices and serve with the other dishes for a great meal!