Everyone Loves a Luau!
Doryan Rice, Staff Chef
A luau is something that most Americans see pictures of, and hear amazing stories about, but I've found few folks that have actually been to one. And I've found even fewer people who want to go through all the work to traditionally cook a pig in the ground, the way they do in the islands. Simply put, it's a heck of a lot of work, and you'd better have a bunch of people coming over to help you eat all that pork.
Cost is also a factor, not to mention finding all the right ingredients. Finding a whole pig isn't always easy, but there are meat markets where you can order one. Just be sure to call up to 6 weeks in advance for some of these places.
However, for some people, none of these things are deterrent. My cousin's husband tried out Kailua pork on his grill one year, and decided to then jump head first into the crazy world of pit pig cooking. Since then, we've thrown a luau every year, and now over 200 people show up.
So be warned. This is not an ordeal to be taken lightly, and it'll likely lead to an annual party that you won't be able to stop throwing!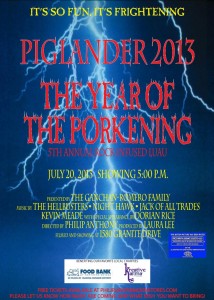 Complete with epic posters
Kailua Pig in the Ground
What you'll need:
1 whole Pig
20-30 Volcanic Rocks (different from lava rocks. They need to be able to handle high heat)
1 small Banana Tree, or about $80 worth of banana leaves
10-12 burlap sacks, soaked in water
Chicken Wire
Bailing Wire
Pink Sea Salt
Black Lava Salt
a Shovel
a Tarp
a 6-8′ pole
1/4 cord of chopped wood (Madrone is best, or Almond or a good Oak)
2 cans lighter fluid
– Once you've got your pig ordered, event posted on Facebook, flyer created, and bands booked, make sure you spend a couple days getting everything ready.
-At least 2 days out, you should have your pit dug. This will give the ground time to dry out. The pit should be about 4×6′ around and 2.5′ deep.
-You'll also need to make multiple trips to the store to get banana leaves, as you may be cleaning the store out a couple of times. The rocks will be difficult, unless you live in a volcanic area. Some rock places will sell them, but if you can find decent-sized ones out in the desert, those seem to work best.
-Make sure you have the hole dug and all of your above ingredients by the day before your luau. When you pick up your pig, get bags of ice, and wrap it up in a cool place with ice bags and the tarp.
-Possibly the most important step on the day before putting your pig in the ground is a call to the fire department. This fire is going to make a bunch of smoke (especially if you use oak), and someone is likely to call them, so it's good to give them a heads up in advance.
-Pack the hole with the wood and rocks, building around the pole. This will allow you to get lighter fluid down to the bottom of the pile later. Intersperse the rocks within the wood, but keep them closer to the top of the pit, rather than the bottom. Don't pack too tightly, either, as you'll want the air to be able to flow through to keep the fire going.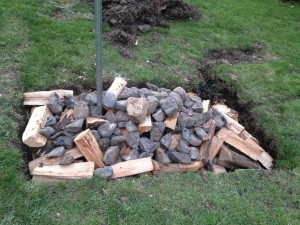 -Around midnight to 1am, douse everything with lighter fluid, making sure to get plenty down the pipe before pulling it out. Then, light it up and gather some friends around to help you stay awake. You've got a long night ahead. If you want to kill time, you can score bits of the pig's skin, rubbing salt into all the crevasses you create, not to mention inside the body cavity. Make sure to leave some salt for finishing as well.
-As the fire burns down, the rocks will fall to the bottom. Around 5-6am, the wood should be gone and the rocks should be white hot. Do not use anything less than welding gloves and long, heavy duty tongs to handle these. Seriously. Load 3-5 of the rocks into the body cavity of the pig, then proceed to wrap it up.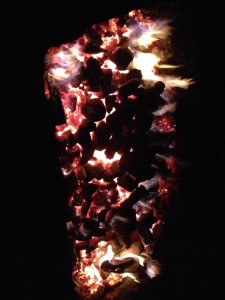 -Use the bailing wire to "sew" together a basic cage for the pig. Line it with 1-2 layers of banana leaves, then wrap it all around the pig. You'll need to re-inforce the closing point by sewing in more bailing wire. Finally, create 3 loops out of the bailing wire that you'll use to slide the pole though to raise and lower your package into the pit.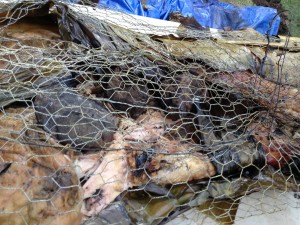 -Spread the rocks out along the bottom of the pit, making a bed for the pig to lay upon. Top with 2 layers of banana leaves, followed by the pig. Now, cover with the rest of the banana leaves (it should be 3-4 layers on top), followed by the burlap sacks. Steam should be starting to rise out of the mound, and you'll need to contain that steam.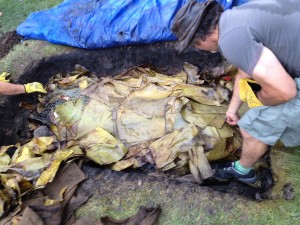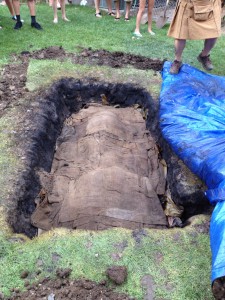 And surround it with men in kilts, preferably.
-Top the whole thing with the tarp, and shovel a bit of dirt on top. More importantly, shovel dirt along the edges of the tarp, effectively sealing up any spots where you see steam escaping. Now, go to sleep. You've got a luau later today!
-It's best to have a team of guys on hand for this whole process. And they'll be there to help you accept praise, keep you awake, and dig the pig back out. The last bit is quite important.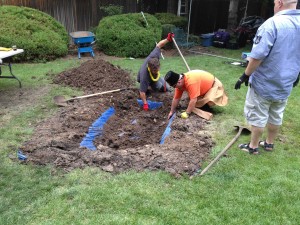 And again, wearing kilts (and apparently a fez) is an important fashion choice.
-Around 5pm, start digging away the dirt in the middle, leaving the edges sealed. At 6pm, pull away the rest of the dirt and all of the layers. Get your pole again, and thread it through the chicken wire to pull the pig out.
-Unwrap your package of goodness on a large plastic table, snipping away the bailing wire, and folding the chicken wire under the table, so you can get nice and close.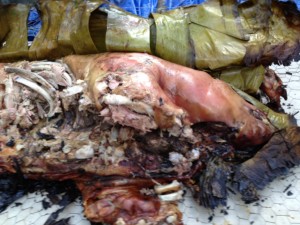 -The pig should be easy to shred. Pull it all apart, toss it into pans, and toss with some of the finishing salt.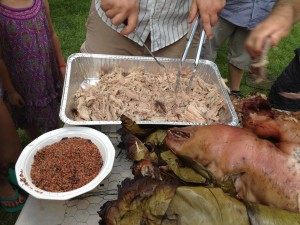 -The most important part? Make sure all these people you're inviting over bring the rest of the food. You've created the masterpiece at the center, so they can surround it with other deliciousness. If anyone doesn't know what to bring, have them bring some Hawaiian Sweet Bread and a few sauces for people to make pulled pork sammiches.
-Now, just choose your way to turn this into as big a production as you like! Don't forget to accept all the accolades!