A very happy veggie Thanksgiving!
Thanksgiving is just around the corner, and we here at Austin Veggie Chef know how difficult it can be to be a vegetarian on a day that's devoted to turkey. The great thing about fall produce is that can make a completely meatless meal feel like a hearty, Turkey Day feast, minus the turkey. Here are some of our favorite Thanksgiving recipes featuring your favorite fall veggies!
Cornbread Stuffing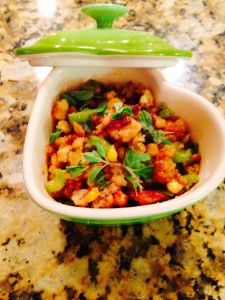 1 medium yellow onion, chopped
3 stalks celery, chopped
2 tablespoons butter or olive oil
1 teaspoon fresh sage, chopped
1 teaspoon fresh thyme, chopped
1 teaspoon fresh parsley, chopped
4 cups cornbread, cut into cubes
½ cup vegetable stock
Salt and pepper, to taste
Preheat the oven to 420 degrees.
Heat a medium sized pan over medium heat. Add the oil or butter, and then add the celery and onion. Sweat for 3 minutes until translucent. Meanwhile, mix the bread and the chopped herbs together in a large bowl and season with salt and pepper.
Pour in the onions and celery from the pan and stir together. Add vegetable stock a little bit at a time until all of the bread has absorbed some liquid. Pour into a small casserole or baking dish and bake in the oven for 20 minutes until golden brown and serve.
Butternut Squash Macaroni and Cheese
1 pound small penne rigate or cavatappi
4 cups butternut squash, peeled and diced into 1 inch squares
1 tablespoon olive oil
2 tablespoons butter (or olive oil)
2 shallots, chopped
4 cloves of garlic, chopped or grated
3 tablespoons of flour
2 ½ cups of milk
3 cups of sharp cheddar cheese
½ cup of vegetable stock
2 tablespoons fresh thyme, chopped
¼ teaspoon nutmeg
¼ teaspoon clove
Salt and pepper to taste
Preheat the oven to 425 degrees.
Bring a pot of water to boil, add salt and cook the paste until very al dente.
Toss the squash in some olive oil, salt, and pepper. Place on a baking sheet and roast in the oven for about 25 minutes, until the edges have browned. Lower the oven to 375. Once the squash has cooled for a few minutes, add half of it to a food processor along with the vegetable stock and puree together, and reserve the rest.
Melt the butter in a saucepot over medium heat. Whisk the flour, then allow it to cook for 90 seconds. Add shallots and garlic and let them soften for 3 minutes, then whisk in the milk. Bring the mixture to boil, then lower to simmer and let cook it for a few minutes until its thick enough to stick to a spoon. Whisk the squash puree into the milk mixture.
Stir in most of the cheese. Season with salt and pepper. Once the cheese has melted, add the pasta and combine. Mix in the rest of the squash, then top with cheese. Add to a large, greased casserole dish and bake in the oven until the cheese on top has completely melted.