Chilly out? How about some chili!
The season of fall is the season of chili. After all, what do we think of when we think of chili? Tailgating at a football game on a chilly autumn afternoon, warming up with a delicious bowl of chili! Here in Texas, there is a very strong opinion on what's a "true" chili and what isn't. But one of the great things about chili is that it can be altered in so many ways to fit a variety of dietary needs! Vegetarian or vegan? There's a chili for that. Trying to watch your sugar intake? There's a chili for that! Here are some of our favorite chili recipes to get you warmed up for the remainder of the chilly chili season!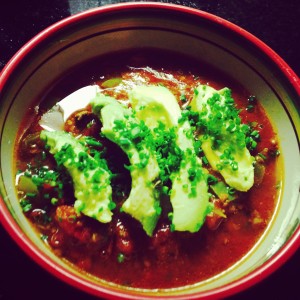 Veggie Chili
1 medium yellow onion, chopped
1 carrot, peeled and chopped
2 stalks of celery, chopped
1 green bell pepper, chopped
1 red bell pepper, chopped
1 jalapeno, chopped (for extra heat, include seeds and ribs. For less heat, leave them out.)
4 cloves of garlic, chopped or grated
2 chipotle in adobo peppers chopped, plus 1 teaspoon of the chipotle in adobo sauce
1 28 oz can diced tomatoes (use entire can, including liquid)
1 ½ 15 oz cans of red kidney beans, drained
1 15 oz can black beans, drained
4 cups of water
1 teaspoon of cumin
1 teaspoon of Mexican oregano (substitute regular oregano if you can't find Mexican)
1 tablespoon chili powder
1 ½ tablespoons olive oil
salt and black pepper, to taste
Garnishes: green onion, cheddar jack cheese, sour cream, avocado, cilantro.
Heat a large pot or Dutch oven over medium heat. Add olive oil. Add onion, celery, carrot, and the bell and jalapeno peppers to the pot. Cook for 8 minutes, then add the garlic. Cook another 4 or 5 minutes, until the vegetables have softened. Add the chipotle peppers, adobo sauce, tomatoes, water, black pepper, oregano, cumin, and chili powder. Stir together, bring to a boil and then lower heat and allow to simmer for 45 minutes. Add beans and cook for another 45 minutes. Add salt to taste. Garnish to your liking and serve.
Low Sugar Paleo Friendly Chili
1 pound of grass-fed ground beef
12 baby bella or 4 portabella mushrooms, halved and cut into thick slices (portabella) or quartered (baby bella)
1 medium yellow onion, chopped
1 green bell pepper, chopped
1 red bell pepper, chopped
4 cloves garlic, chopped or grated
2 jalapeno peppers, chopped (leave the seeds and ribs for more spice, remove them for less)
2 28 ounce cans of diced tomatoes
2 tablespoons chili powder
1 teaspoon cumin
Cayenne pepper, to taste
2 tablespoons olive oil, coconut oil, or ghee
Salt and pepper, to taste
Garnishes: Avocado, chives, green onions
Put your slow cooker on high. Add the two cans of tomatoes, with their juices, to the slow cooker.
Heat up a large pot separately. Once hot, add your cooking fat. Allow the fat to heat up for a minute, then add the ground beef. Cook the ground beef, breaking it up into smaller pieces with a wooden spoon as it cooks. Cook for about 5 or 6 minutes, or until you see very little pink left. Then add the onion, mushrooms, peppers, cumin, chili powder, and cayenne. Let the vegetables soften for 4 or 5 minutes, then add the garlic. Cook for another 3 minutes. Add the meat and veggies to the tomatoes to the slow cooker. Once the mixture comes to simmer, switch the power to low on your slow cooker and let it simmer, covered, for 8 hours. Garnish and enjoy!