New Year, New Recipes: Healthy Vegan Dinners
Last week on our blog, we gave some basic nutrition guidelines and tips to help you get healthy and achieve your New Years resolution. This week, we are here to help you start on your way to eating better with some delicious and nutritious vegan friendly dinners. These dishes are so warm and comforting, you won't even feel like you're eating healthy!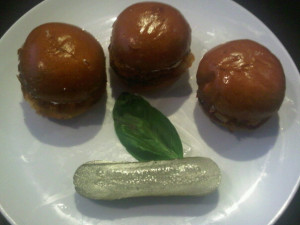 Spicy Vegan Sloppy Joes
1 pound of Cremini mushrooms, halved
1 large yellow onion, diced
3 cloves garlic, finely chopped or grated
1 red bell pepper, diced, seeds removed
1/3 cup chopped almonds
1/4 teaspoon of chili powder
1 chipotle in adobo, finely chopped
1 tablespoon of the chipotle in-adobo sauce
1 cup of tomato sauce
1 teaspoon of honey
Salt and pepper, to taste
Add the mushrooms to a food processor and pulse in batches until they are finely chopped. Heat a large, deep skillet over medium heat, then heat up the oil. Add the onion, bell pepper, garlic, chipotle pepper, and chipotle in adobo sauce. Cook until the onions and peppers soften, around 5 minutes. Then add the mushrooms, almonds, and and chili powder and cook until the mushrooms get crispy and cooked through. Add the tomato sauce and honey. Bring to a bubble, then lower to a simmer for 6-7 minutes, until the sauce has thickened. Season and serve.
Serve on top of whole grain or Paleo buns with pickled jalapeno or a cabbage slaw (sliced cabbage, apple cider vinegar, olive oil, salt, and pepper)
Lumberjack Soup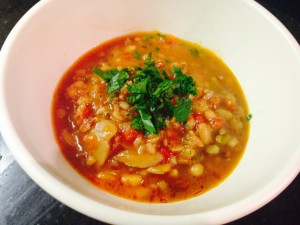 7 ½ cups of chopped rutabaga
1 ½ cups chopped celery
2 cups of chopped Cremini mushrooms
6 cups of chopped carrots
3 cloves of garlic, sliced
2 cups of chickpeas
1 cup Dijon mustard
1 tablespoon of olive oil
¼ cup of vegetable stock
5 cups baby kale, washed and dried
Salt and pepper, to taste
1 ½ tablespoons chopped parsley
Preheat your oven to 350 degrees. Lay out the chickpeas on a baking sheet and roast in the oven at 350 for 20 minutes, until they're fully cooked.
Add all the ingredients to a slow cooker, minus the kale. Bring to a simmer and keep the slow cooker on low for 5 and a half hours, until all the veggies are soft and cooked through. Add the kale and then cook for an additional 30 minutes until tender. Season with salt and pepper, garnish with parsley and serve with grilled Paleo bread.