Our friend, the Slow Cooker
The slow cooker is an underappreciated, but fantastic kitchen tool. Just load it up with your favorite ingredients, turn it on, and let it work its magic while you go on about your day. A few hours later, you have a delicious, flavorful, healthy, and tenderly cooked dinner, all with an easy clean-up. It does all the work for you, but your food tastes like you've been slaving over it for hours! It's also great in winter for making your favorite hearty soups and stews to warm up with. You can find a slow cooker pretty easily, and at a great price too. No need to worry about burning or overcooking something; the easily adjusted heat levels on the slower cooker takes all the guesswork out.. It really is the miracle kitchen tool! Here are some of our favorite vegan slow cooker recipes to try out.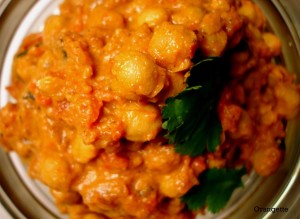 Chana Masala
1 cup dried chickpeas/garbanzo beans
2 ½ cups water
½ teaspoon turmeric
1 red onion, chopped
2 tablespoons of extra virgin olive oil
1 teaspoon cumin
1 teaspoon coriander
3 tomatoes
1inch knob of ginger, peeled
2 jalapeños, sliced
1 teaspoon garam masala
1 lime
1 bunch of scallions, chopped
Big handful of cilantro, chopped
Place the chickpeas, water, salt, and turmeric in slow cooker. Cook on high setting with the lid on for 4 hours. Puree the tomatoes, ginger, and jalapeños in a blender, and mix into the chickpeas in the slower cooker,  along with the onion, olive oil, cumin, and coriander, and cook for another 2 hours.
Stir in the garam masala, allow to sit on 15 minutes on off. Squeeze in the juice of the lime and garnish with the cilantro and scallions.
Butternut Squash Coconut Chili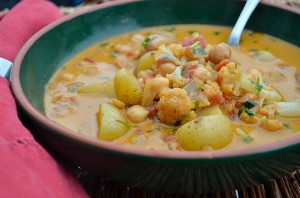 1 onion, chopped
2 stalks of celery, chopped
2 carrots, peeled and chopped
2 medium apples, peeled and diced
2 cups of butternut squash, peeled and diced
4 cloves of garlic, finely chopped or grated
1 can of black beans, drained and rinsed
1 can of chickpeas, drained and rinsed
1 cap of coconut milk
2 teaspoons chili powder
1 tablespoon cumin
1 teaspoon oregano
2 cups vegetable broth
2 tablespoons tomato paste
salt and pepper, to taste
1 bunch of chives, chopped
Place all the ingredients except the chives and the salt and cook on low for 7 hours. Take the lid off and cook for an additional 45 minutes. Garnish with chives and serve.