Veggie recipes on the go!
There are a lot of advantages to cooking at home. It's cost effective. You control what goes in your food, so you can add and omit and add things for your health needs and flavor desires. So then why don't people cook at home more often? The excuse used most often is that people simply don't have enough time! Here are some of our favorite vegetarian recipes to prepare in a flash. All of these recipes will take you about 15 to 30 minutes to cook up, and use quick and easy cooking techniques you can apply to future recipes to breeze right through them!
Grilled Tofu and Soba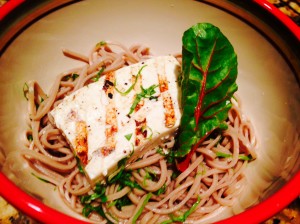 1 12 ounce pack of soba noodles
1 16 ounce patty of extra firm tofu, dried off
¾ cup + 2 tablespoons of extra virgin olive oil
1 cup of Asian greens, like mizuna, tatsoi, shiso, or red chard
4 cloves of garlic, grated or chopped
3 shallots, diced
3 jalapenos, seeds and stems removed, sliced
1 bunch of cilantro, picked
Juice of ½ a lime
1 teaspoon of honey
Salt and pepper, to taste
Bring a pot of salted water to a boil and cook the soba noodles according to package directions. Toss the warm noodles in a bowl with a tiny bit of olive oil and stir in the greens to wilt them.
Heat up an outdoor grill or grill pan. Cut tofu into equal slabs, then drizzle with olive oil. Season with salt and pepper and place on the grill. Cook, flipping once, until browned.
Combine garlic, shallots, jalapenos, cilantro, honey, and lime juice to a food processor. Pulse a few times to start breaking down everything, then keep it one while gradually drizzling in the ¾ cup of olive oil. Process until well combined.
Add the dressing to the bowl with the soba and combine. Serve the noodles in bowls with the grilled tofu on top, drizzled with a bit of extra dressing on top.
Vegetable Gumbo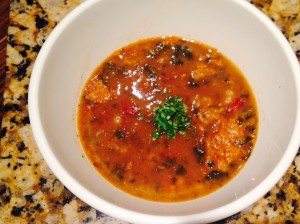 3 tablespoons grape seed oil
3 tablespoons all-purpose flour
1 medium big yellow onion, chopped
1 green bell pepper, chopped
2 stalks celery, chopped,
3 cloves garlic, chopped
1 tablespoon of vegan/vegetarian Worcestershire sauce
1 teaspoon smoked paprika
1 teaspoon gumbo file powder
1 large bunch of kale
2 cups vegetable broth
1 10 ounce package frozen black eyed peas
Your favorite rice, as an accompaniment
Heat the grape seed oil in a large pot over medium high heat. Add the flour, mix together well, and let the mixture cook in the pan for a few minutes, until it starts to develop a dark golden color.
Add the onion, pepper, celery, garlic, and 3 tablespoons of water to the pot. Reduce the heat, cover, and cook down for 8 minutes, stirring occasionally. Add the Worcestershire sauce and cook another minutes, then deglaze with vegetable broth, using a wooden spoon to get all the dark delicious stuff from the bottom of the pot. Bring to a boil, add the greens and black eyed-peas, and cover. Reduce heat back to a simmer, cover, and cook for another 15 minutes, stirring ever few minutes.
Season with salt and pepper and serve over rice.