The seasons have finally seemed to change here in Austin! With temperatures dipping finally dipping, autumn has made its presence known. Gone is the produce of summer, replaced by a bountiful array of seasonal fall delicacies, like apples, pears, pumpkins, and squashes. And what more festive holiday is there to celebrate the first harvest of fall than Halloween? Here are some recipes to enjoy for your Halloween party or pre-trick or treating feast!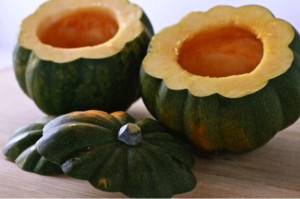 Acorn Squash Stuffed with Swiss Chard and Beans
2 medium sized acorn squashes, halved, seeded and a small slice cut from the bottom for stability
4-5 tablespoons of Extra Virgin Olive Oil (or whatever oil you prefer)
½ a medium sweet or yellow onion, chopped
1 teaspoon fresh thyme, chopped
1 teaspoon fresh oregano, chopped
3 cloves of garlic, minced fine or grated
2 tablespoons of water
1 tablespoon of tomato paste
1 bunch of swiss chard, chopped
¼ cup pitted black olives (like kalamata), chopped
1/3 cup coarse dry whole wheat bread crumbs
1/3 cup grated parmigiano reggiano cheese
Salt and pepper
Preheat your oven to 375 degrees. Brush a baking dish with oil. Place the squash halves in the baking dish, then brush them with oil and season them with salt and pepper. Roast in the oven until tender, 35-40 minutes.
While the squashes are cooking, make the stuffing. Heat the oil in a skillet over medium heat. Add the onion, cook until they start to caramelize, about 5 minutes. Add the garlic and cook for an additional minute, being careful not to burn it by stirring. Stir in the water and tomato paste, cook out for 1-2 minute, then add in the chard, cover the pan, and cook until the chard has wilted down, around 5 minutes. Stir in the beans, olives, and half of the chopped herbs, and cook down 2 more minutes. Remove the pan from heat.
Preheat broiler.
Combine breadcrumbs, the last half of the chopped herbs, cheese, and 1 tbsp of oil. Fill the squash halves with a cup of the stuffing mixture, then sprinkle with breadcrumbs. Broil in oven until the tops have browed, 2-3 minutes.
Eating paleo? Substitute almond meal for breadcrumbs, omit the cheese, and use rough chopped mushrooms. Add the mushrooms BEFORE the beans and allow them crisp up for about 4 minutes before you add the water. If you're grating your garlic, you may want to wait to add it until after the mushrooms have cooked down, so it doesn't burn.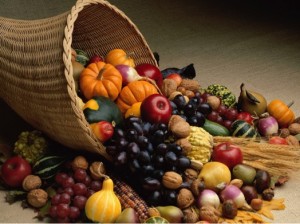 Autumn Muffins
2 large eggs
1 cup pumpkin puree
½ cup apple sauce
½ teaspoon vanilla extract
1 ¼ cups almond meal
¼ cup flaxseed flour
2 teaspoons baking powder
¼ teaspoon baking soda
1 teaspoon cinnamon
½ teaspoon ginger
½ teaspoon ground clove
½ cup walnuts, chopped
1 cup of Granny Smith apples, peeled and chopped
1 tablespoon coconut oil or ghee, for greasing
Preheat the oven to 350 degrees. Combine the eggs, pumpkin puree, apple sauce, and vanilla extract in a large mixing bowl. Sift together dry ingredients and then carefully mix in the wet ingredient mixture. Fold in the walnuts and apples.
Grease a muffin pan with coconut oil. Pour the batter in, filling 2/3 of the way up. Bake for 25-30 minutes, until they're browned and you a toothpick comes out clean.
These are paleo: no grains, dairy, or refined sugar.